Let's talk about green colour schemes for the perfect green living room
Let's talk about green colour schemes for the perfect green living room
It seems country life cultivates an affinity with green living rooms! Since we moved, I've become obsessed with home decor and have found myself pinning so many living room ideas to my Pinterest boards. Seriously, my Pinterest obsession is pretty extreme at the moment!
More than anything, I'm on Pinterest pinning colourful home decor ideas, which is a new direction for me because I've always been a fan of neutral tones. And that's where green living room ideas come in. There is something about a dash of colour like a green sofa or even simply with some green accessories or plants that is really appealing. With a little one who loves colour and the fact we live in the countryside, I think it's only natural (haha) that I've moved away from that white aesthetic and that green has crept in more and more to my mood boards – and I like it!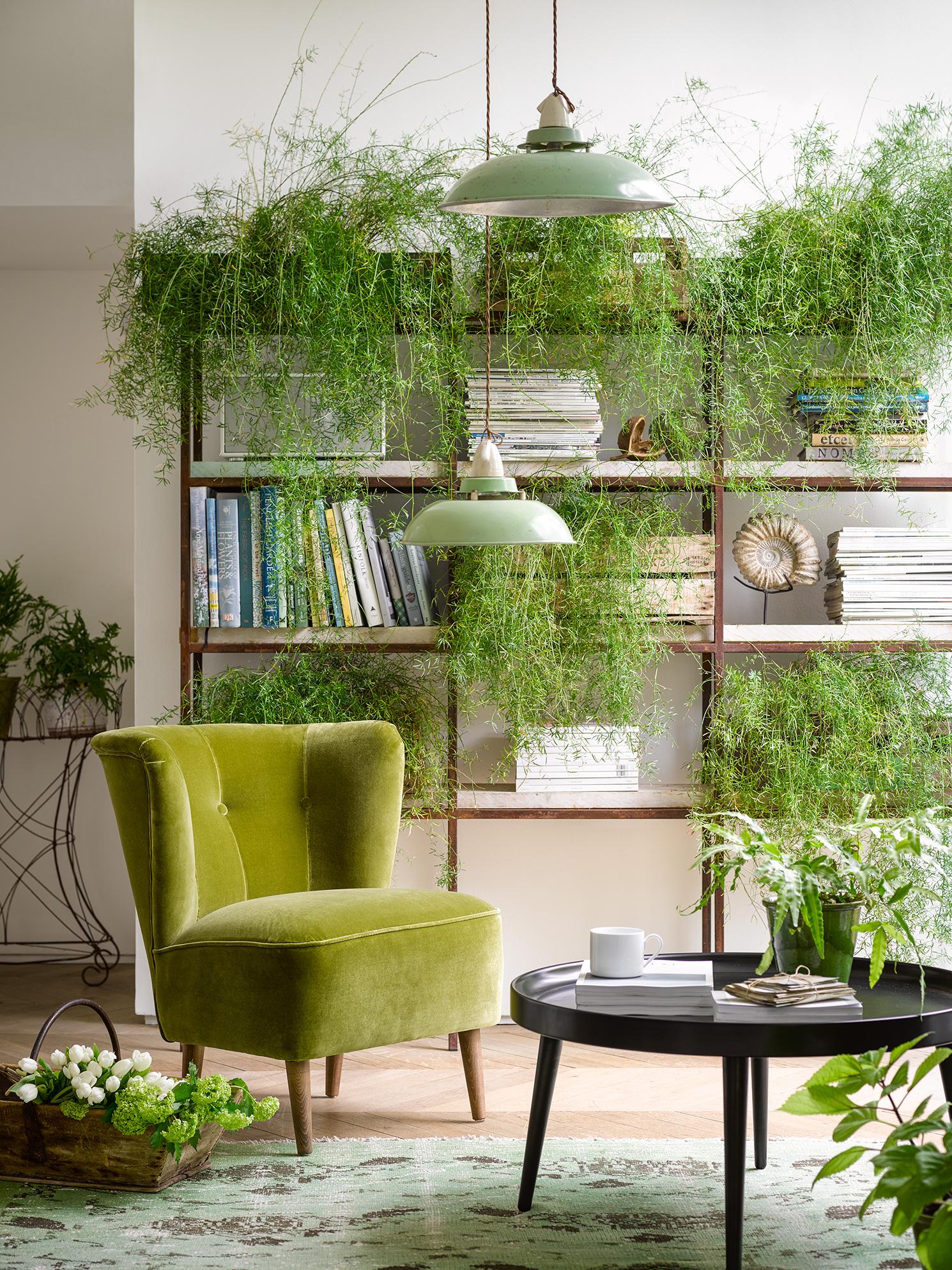 Why Choose a Green Living Room Colour Scheme?
Green is such a versatile colour for home decor. It's no longer limited to those  avocado coloured bathroom suites because now we have gorgeous greens from muted sage tones to rich jewel tones of jade and teal. Tones of green can switch any space from relaxing, to elegant, to fun. Dulux have just announced Tranquil Dawn, a soft and highly versatile green as  their 2020 Colour of the Year, whilst Graham & Brown have announced Adeline -a deep rich bottle green  as their colour of 2020 – so we'll be seeing a whole lot more green in home decor!
Velvet Green and Wood Sofa| Source
One of the great things I'm loving is that green works with every other colour – whether you marry similar muted tones, or pair with bolder complementary shades like rich blues, yellow golds and aubergine shades. I'm not usually into pink, I have to say, but I love the way the pink works so well with green, too.
So, for this post, I'm going to take you through some of my current favourite ways to decorate your living room with green, including green colour palette inspiration. There's also some great green home accessories and homeware that work well with green.
There will be more of these interiors posts – the obsession is real!
---

Gold Yellow with Green Living Rooms
There's something really calming about green with gold and yellow tones. The warmth that yellow tones bring really complement the earthy vibe that green brings.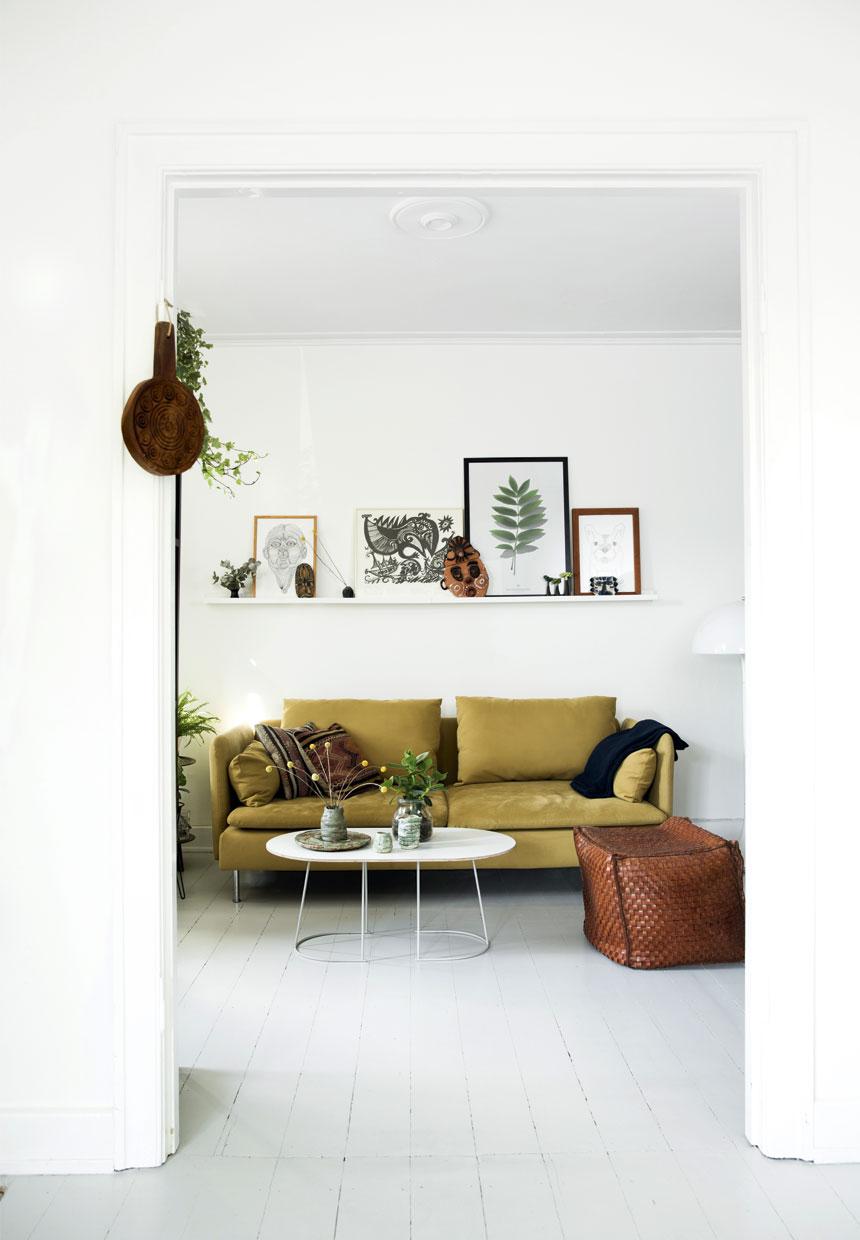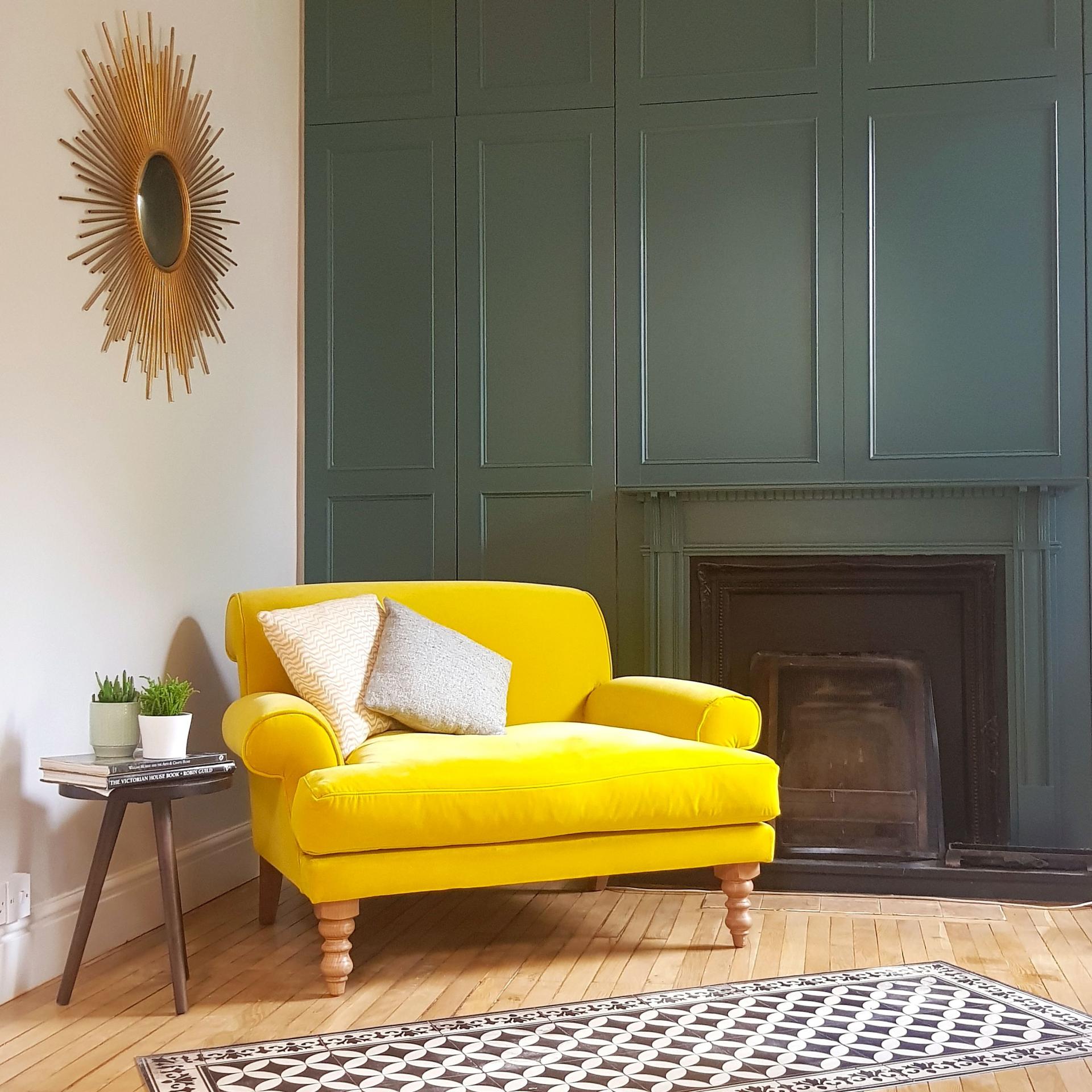 Credits: Decoholic | Dulux Moss Blanket and Field Mouse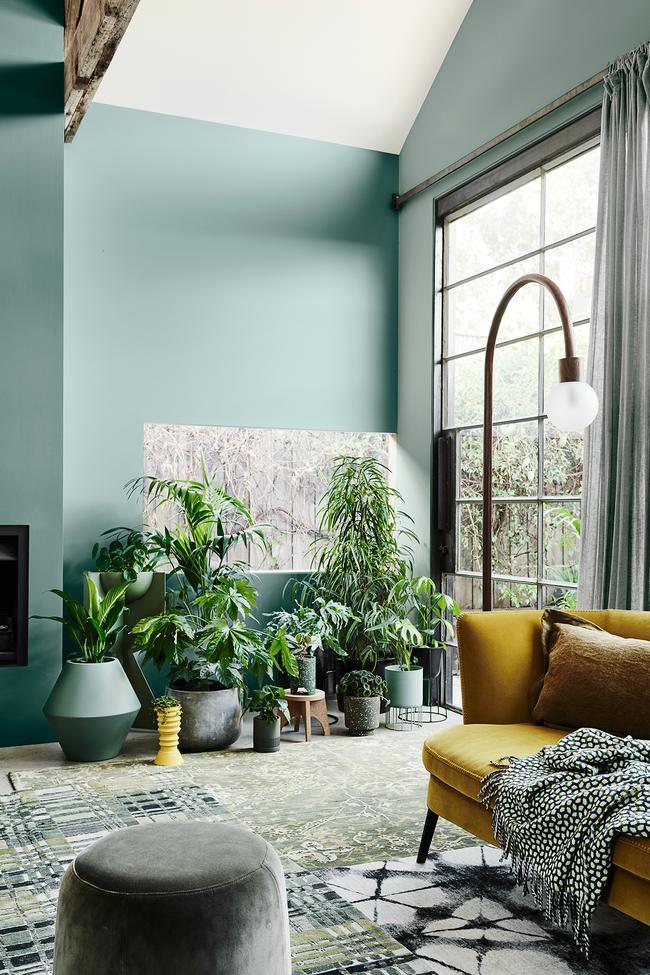 ---

Blue with Green Living Rooms
Green and blue can create a really dramatic, but cosy look. Pairing navy blue walls as a backdrop for rich green furniture and accessories is a really sophisticated way to go. Adding in pops of yellow and deep purples and aubergine shades helps to break up the colours for that stylish, elegant vibe.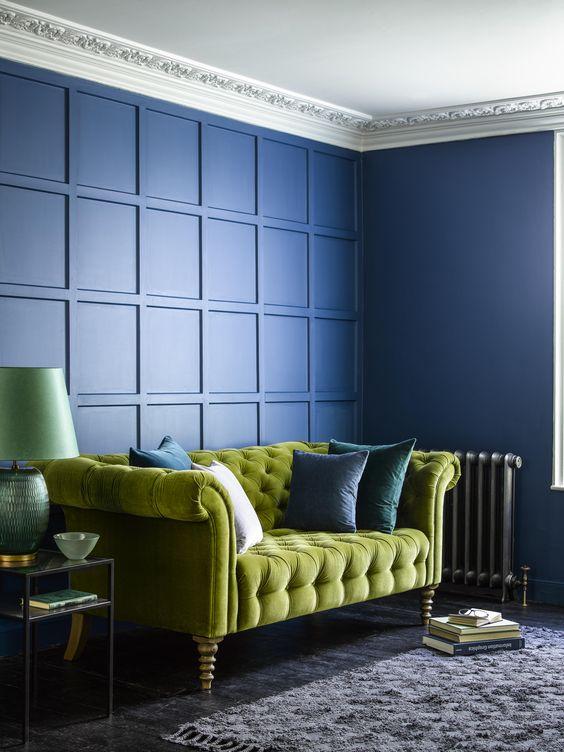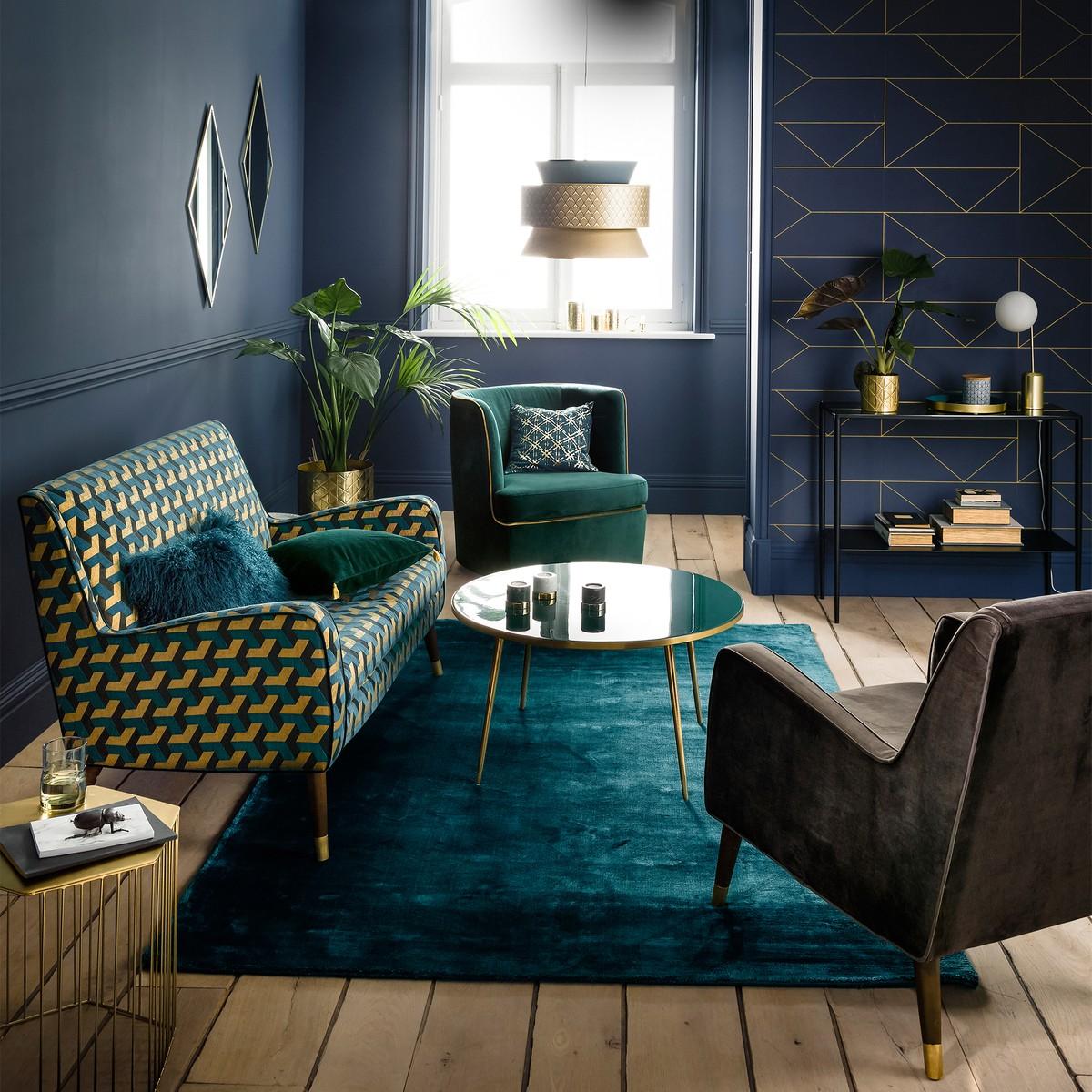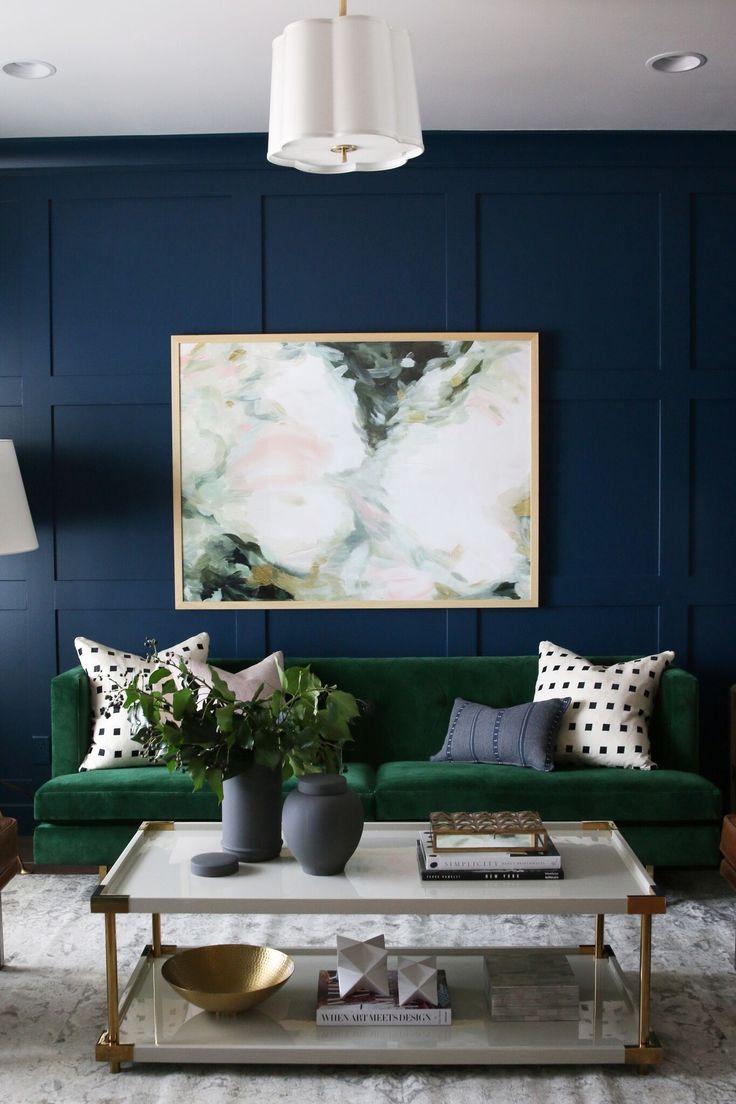 ---
---

Green with Metallic Shades | Gold and Silver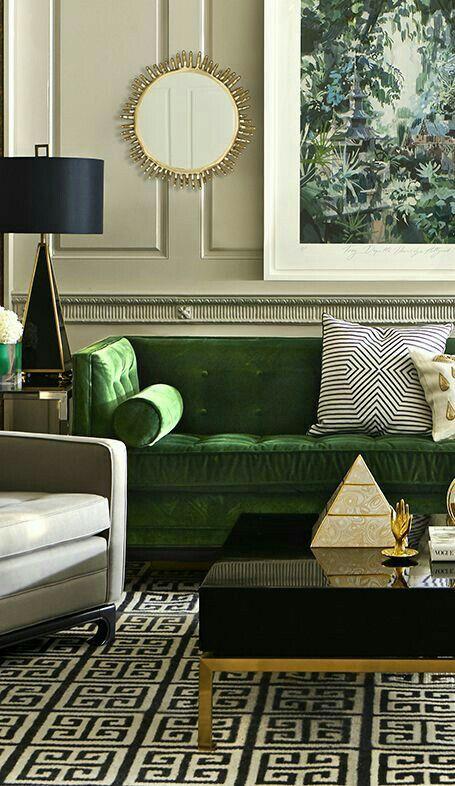 Green and grey is a great next step from the grey and white theme. Pewter and silver give a different and interesting take on the green and grey living room theme.
Green sofa with grey rugs and grey walls and gold detail: Desire to Inspire
Metallic shades work really well with green and stacked mixed metals look really strikingly stylish, for a classic look, but with an elegant modern twist.
Green velvet cushion covers, complemented by green and gold
Rich moss greens in velvet look sumptuous paired with mixed metal tones of gold and silver.
These green with gold wall planters add an extra touch alongside the gold coffee table and accessories.
---

Green with Wood and  Brown Neutral Tone Living Rooms
As I've delved deeper, I've found that a green and brown living room looks so much better than it sounds! Mixing the earthiness of green with wood in different forms adds so much warmth and depth. Mixing up the tones of wood with the tones of green you can create so many different looks, from dark and dramatic, to light and natural.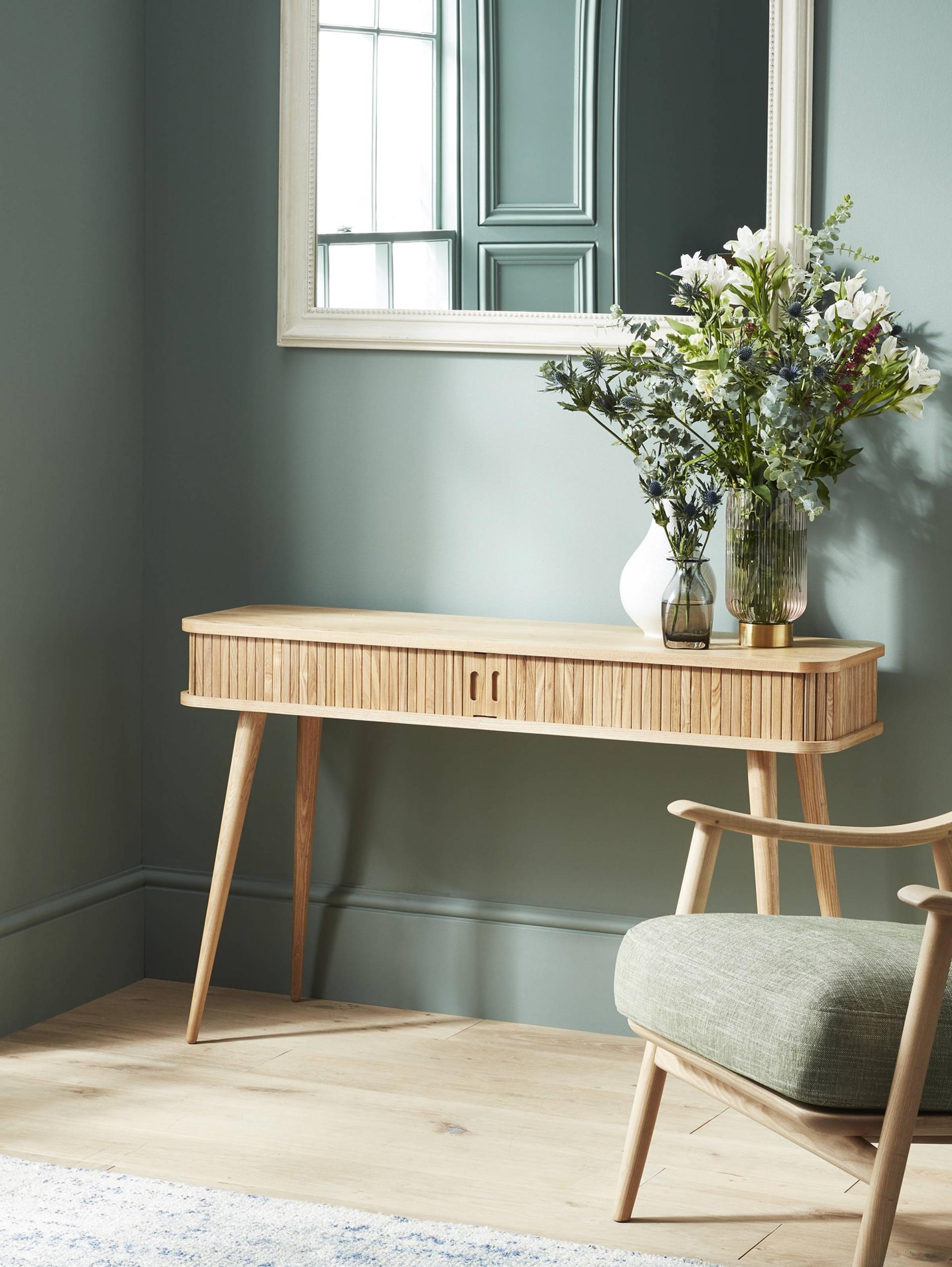 ---
---

Green with Pink Living Rooms
Green and pink isn't something I would have considered before, but it really works for a softer look without being sickly sweet. There's so much flexibility when you use complementary tones – a deeper berry pink with a richer green, or a sage green with a blush pink.
Sometimes a bold piece of original artwork is all it takes to make your green decor pop! One piece can change the whole look and feel of a room. I've been following artist Johanna Rossi on Instagram for a long time and love how versatile the bold colours in her artwork are.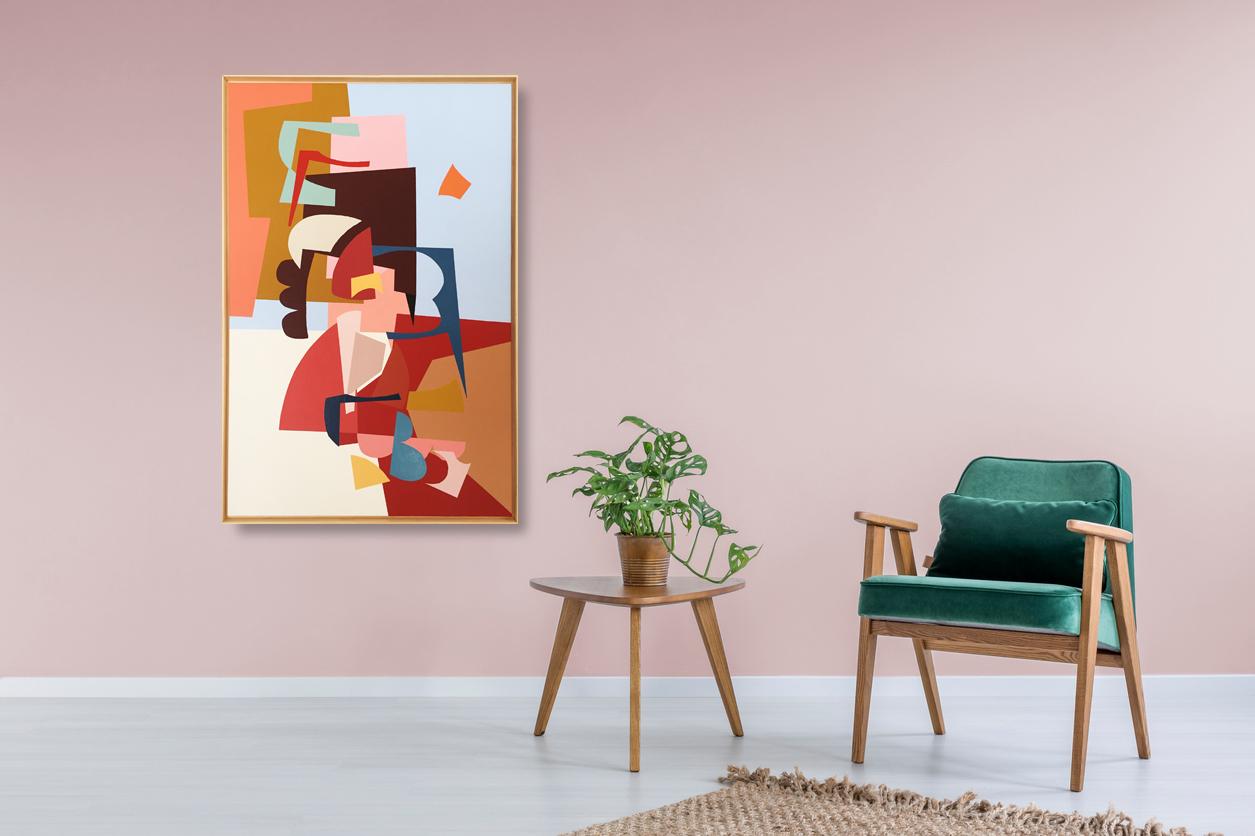 ---
---

Green home Accessories
If you aren't ready for all out green, then adding green accessories to the home works really well. Because we live in the country,  I've brought that into B's room for a cohesive touch with green and wooden accessories in his bedroom.
Home accessories, like a green focal chair or a green wall planter or piece of art make a more understated impact. But, there is nothing that will bring warmth and life to any room more than simply adding plants!
Kat x
What was your favourite green living room combination?
Follow Kitty & B:  Pinterest | YouTube | Instagram | Twitter | Facebook| Bloglovin' 
Kitty and B uses affiliate links. As an Amazon Associate I earn from qualifying purchases.