A last minute (affordable) dressy jumpsuit for a special occasion! [Video]
A last minute (affordable) dressy jumpsuit for a special occasion! [Video]
Bag (similar) 2.Bracelet £12 (similar) 3. Jumpsuit £29.99. 4. Shoes £10 (similar)
I'm always on the hunt for a jumpsuit.  You know that. This time it needed to be a dressy jumpsuit and, thankfully, I found that this particular one  (which I bought at the last minute) made for a really easy outfit that worked so well for a very special occasion – my uncle's wedding! So, I thought you might like it, to0 – a statement jumpsuit is always a good idea,  especially when it's nearly party season.
Aside from showing you the jumpsuit via one of the new features on Kitty and B – video of how the items I share look on – I found  some bonus similar looks in different colours starting at £7.00 at the end of this post. I really like the look of the green dress version!
But, yes, when I say last minute, I truly mean that – I ordered at 7.58pm with next day delivery and it arrived 30 mins before I had to leave for the wedding! Didn't I already have something to wear? I thought I did. I wasn't planning on spending any more and had planned to wear the polka dot dress I showed you in this post. But, the night before, I had a 'crisis'.
SHOP THE jumpsuits
The Great British is it legs out/legs covered weather debate
The heatwave felt like a very distant memory the night before the wedding. It had rained like the sky was mourning summer and I'd had to resort to putting the fire on. I was cold, really cold and that polka dot dress didn't work without the over the knee boots I styled it with – they just didn't seem right for a wedding. That meant bare legs…Bare legs(!), which thanks to being a mum to a very energetic 3 year old, were covered in all manner of bruises and marks.
Could I just cover with makeup? Would that look weird? How long would that take? What if it rained? Could I just leave them? Maybe, but I would have felt uncomfortable all day.
The last-minute-its -now-7pm-the-night-before-what-shall-I-wear debate raged in my head – only interrupted by daddy pig and the rest Pig family, which reminded me that I could actually switch that nonsense off now. I had more pressing issues – I myself might be navigating (albeit, far less gleefully) muddy puddles!
Can you/should you wear white to a wedding?
So, back to my saved items I went on all my usual sites. Tabs open on my Mac and phone (I wrote about my  tips for online shopping and believe it or not, this is something I recommend). I kept coming back to this jumpsuit. It was £29.99 and looked like something I could get a lot of use out of beyond the wedding. If it didn't fit or look right, I could  return it and go back to plan A:  The white, patterned polka dot dress….white dress….at a wedding? Gah!
Ok, I know this jumpsuit has white on it, but I figured it would be ok with it not being a white dress. Thoughts? Anyway, I bought it. It arrived just before I was due to leave. It fitted perfectly. So, on it went and off I went.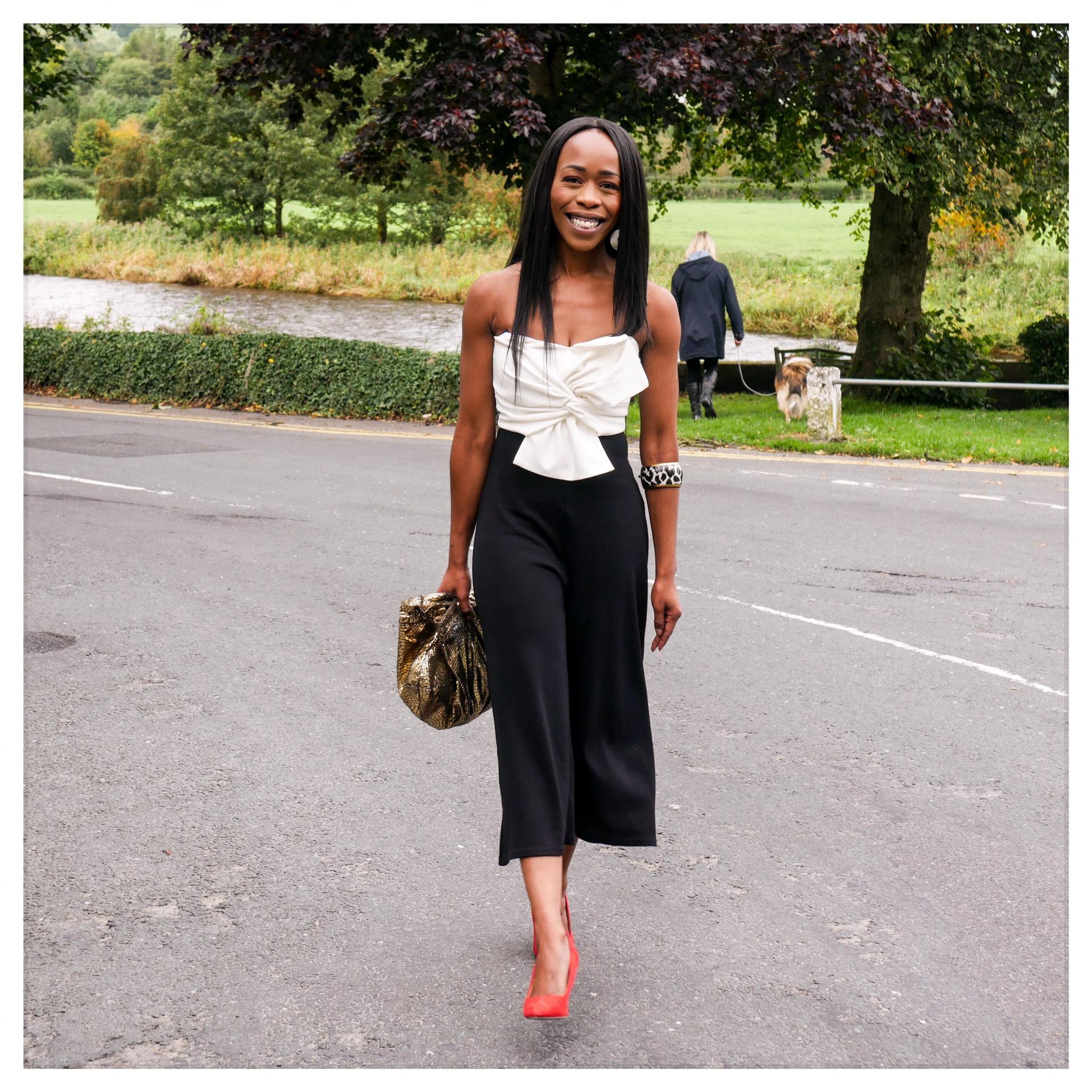 Final Thoughts on this Jumpsuit
I felt elegant and comfortable all throughout the day and the night. I had a lot of compliments – despite it not being clear if the top of the top should be down or up (see video). Also, I took the decision to wear a bra that wasn't strapless, because 1)I couldn't find a strapless bra and 2)I don't feel that comfortable without a bra.  I'd probably go fully strapless next time – tucking the straps in was annoying and, as you can see,  I gave up!
But,  I'm pretty pleased with my last minute outfit. No pockets, but I coped!  I bought a size 6, which is my size, but would say size up if you are bigger round the bust. I wore a mustard yellow M&S Mac over it to travel. Definitely a great one for events or that Christmas party – especially now I've discovered it also comes in red…!
My only concern was the colours running, but I popped it into the washing machine on 40 degrees (with a colour catcher sheet) for good measure and it's absolutely fine! You can check out the other options below.
I'd love to know your thoughts and where you shop for occasion wear
Follow Kitty & B: Twitter | Facebook| Instagram | YouTube | Bloglovin' | Pinterest
Sharing the love at: #iwillwearwhatilike |#brilliantblogposts |#EatSleepBlogRT | #BloggerClubUK | #SharingtheBlogLove | #SaturdayShareLinkUp | #MMBH | Fashion Should be Fun | Glitz and Glamour | Style Elixir