KIKO Milano Online Review| Everything I bought under £10!
KIKO Milano Online Review| Everything I bought under £10!
T
his is the first time I've bought makeup and cosmetics from KIKO Milano Online.  So, I thought I'd share what I bought, with my thoughts and my recommendations as well as what it's like ordering online from KIKO Milano.
In my my last post  on KIKO Milano Cosmetics, I went through everything I bought in store in Spain. And each time I've been back, I've gone to the same store for a browse. Since that little lot, I've repurchased the neutral eye base and the precision makeup blender sponge at least twice.
Where for art thou, beauty sponge?
I still love both and popped into the Spain and Leeds store to stock up on the sponges and in both cases, they were no longer in stock! The lovely lady in Leeds was as horrified as me as she loves the sponge too. So, I did my usual online trawl and found them! And reduced!
Whilst I was there, I thought I'd see what it's like ordering KIKO Milano online and fancied trying out a couple of new products. As there was a sale on, it was hard to resist!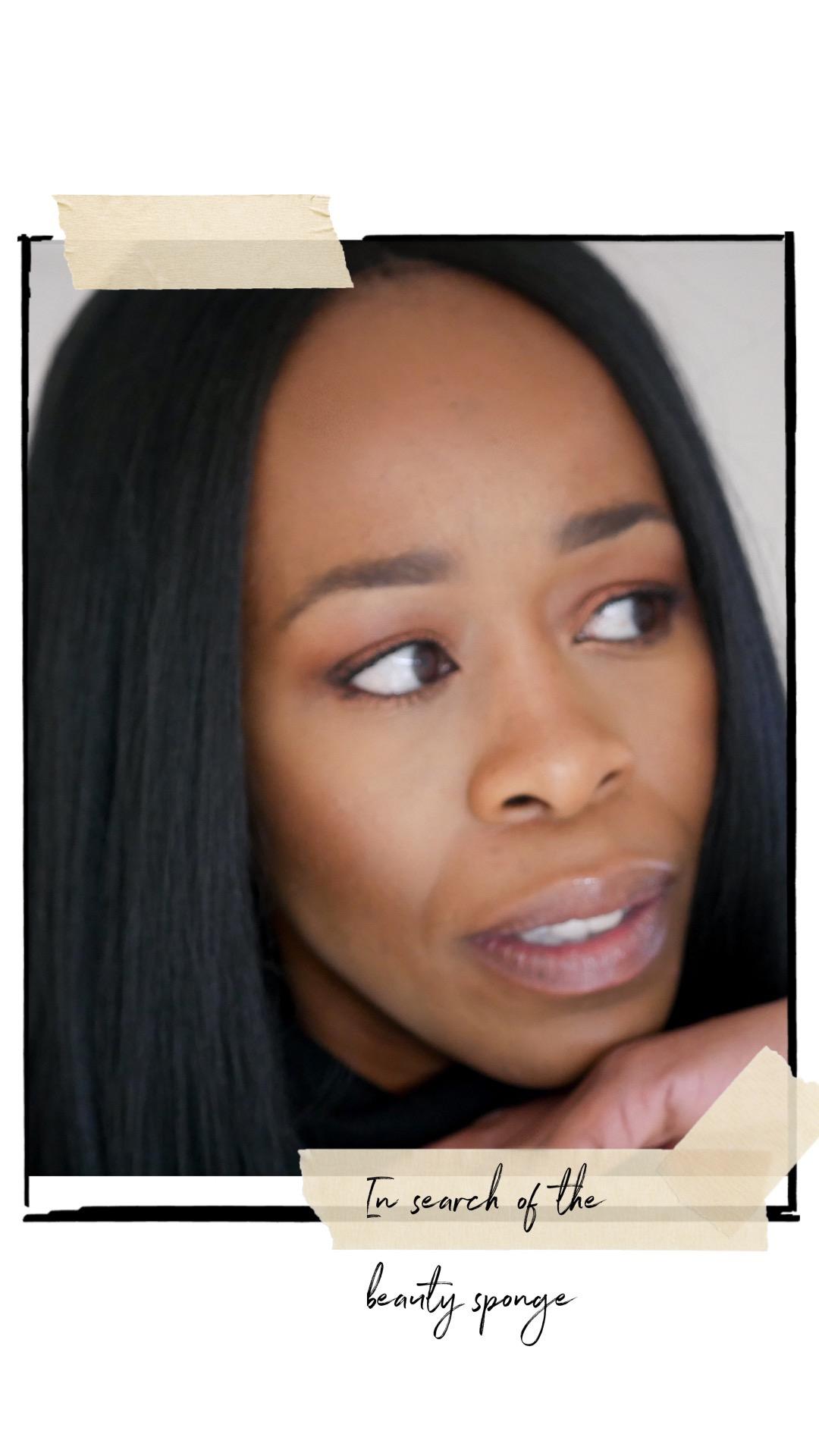 My mascara was all but dry, so that was the first thing after the eye base and sponges that I looked at. Then I saw the dark circle eraser and the SPF 30 (reduced to £3!), so I bought those, too. Now, for some unknown reason, I seem to have lost my favourite
Urban Decay setting sprays.
How is that even possible? Why do I keep losing makeup?! I have a 3 year old, so things do often go missing and turn up in completely random places. Anyway, I needed a setting spray, so that's what I got.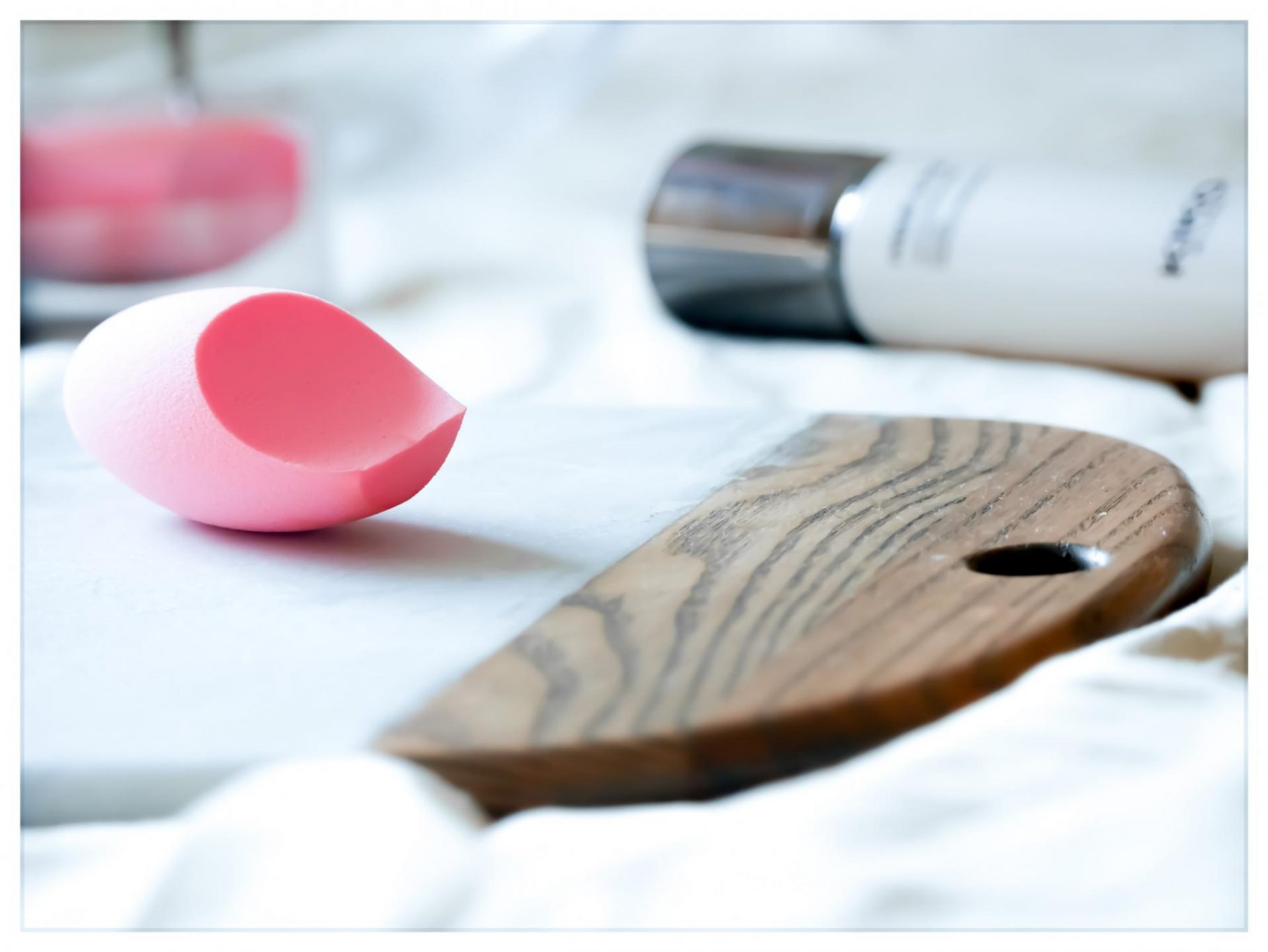 Ordering from kiko milano online
In terms of the ordering process on KIKO Milano online,  for this order, it was faultless.  There is no option for next day delivery for the impatient, like me. Everything was individually under £10, but I really didn't want to go over £30 as a total spend and that gave me free delivery ( which is the case for orders over £25).
There are two delivery options – standard 5-6 days and express – 2-4 business days by UPS or 1-2 business days by TNT for orders for the UK. It will be different for other countries. It's worth noting that you have to add the preparation time to that, too.  Apparently express delivery is allocated by the most cost-effective option, So, I got UK Express UPS delivery which aims to arrive within 3-5 working days, including preparation time – my order came in 3 days.
Everything was tracked and I got emails to confirm and keep me up to date, which I really appreciate.
Everything came packaged beautifully in branded KIKO Milano paper and box and I liked the fact that the box was the right fit for the products. Hate when you get a huge box with barely anything in it!
Thoughts on What I Bought from KIKO Milano online

Solar Protect Glow SPF30
The more I've started to learn about skincare, the older and and more tired I've become, the more I've started to research and use new products and the more I've been interested in protection and that means SPF. One of the most important aspects of skincare, especially if you're using facial acids like retinoids (which is "essentially a basic umbrella term for both over-the-counter retinols and prescription retinoids").
The light texture glides on easily and gives tanned skin a radiant glow. The innovative ANTI OX UV DEFENCE sunscreen protects against UVA/UVB/IR rays and oxidative stress. This system ensures complete sun protection, maintaining your skin's beauty by means of an intense antioxidant action. Non-comedogenic. – Kiko Milano Solar Protect Glow
There were a few options on offer for less than £4 each at the moment from SPF15 and SPF30. There is a low protection cream at SPF6-10, which I wouldn't even consider personally. I have dark skin and I wear factor 30-50 on my body in the sun and the lowest I've gone on my face is SPF15, even when it's not sunny. And I burn!
Solar Protect Glow SPF30. High Protection
SPF 15 Medium Protection
I've used it a couple of times so far, and I have to say, I really like the glow! There is no ashiness or blue hue at all and it definitely gives my skin a really nice, natural, healthy-looking glow. That means I can wear it without makeup, which is a great option.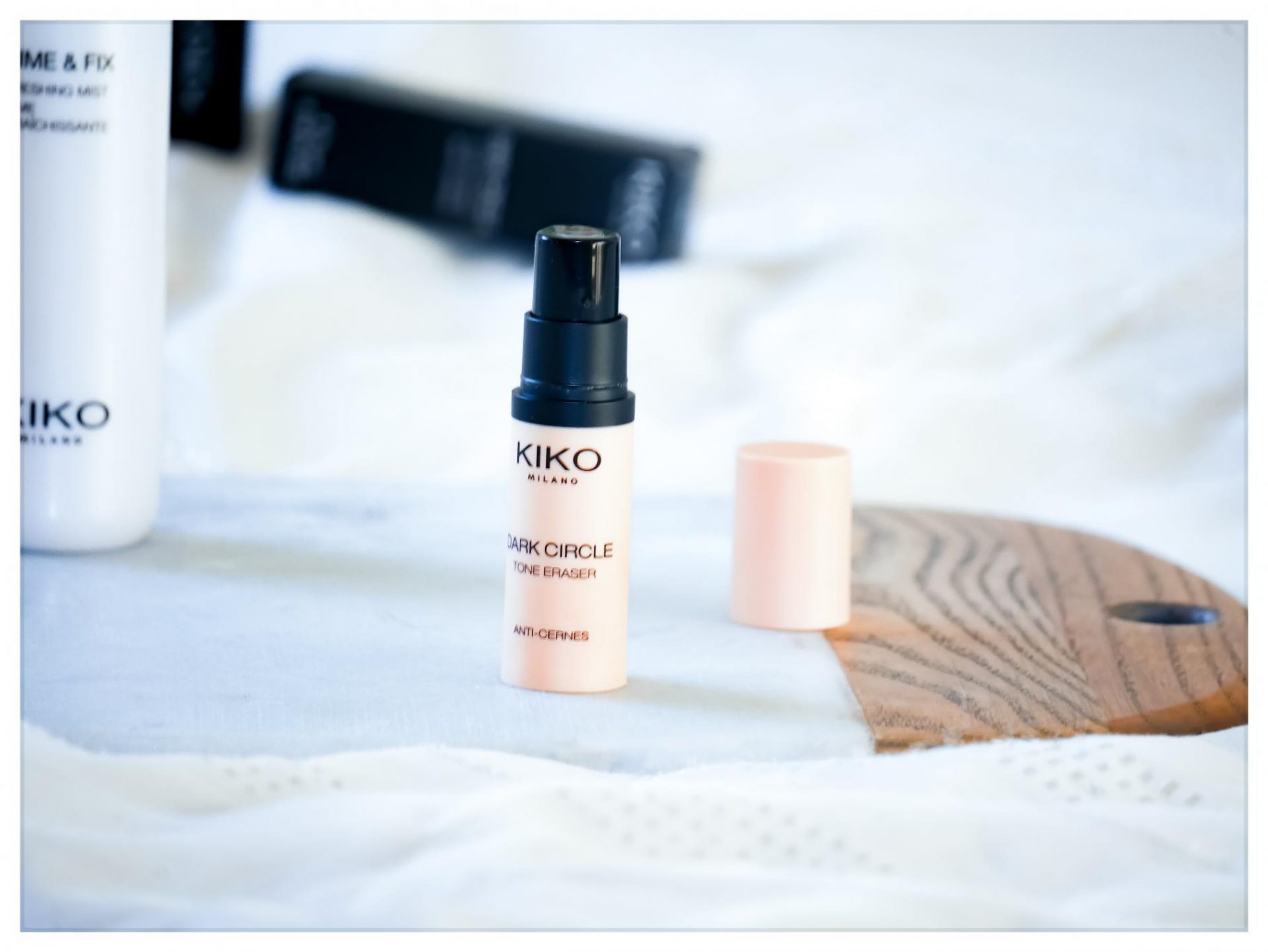 Dark Circle Tone Eraser in Orange
The dark circle struggle is real these days and orange is the perfect colour corrector to use under makeup to help counteract them. If you find that concealer or foundation isn't enough, a colour corrector might be the option. So, when I saw the orange-toned dark circle tone eraser on offer for £2.60, I thought in the absence of sleep it was worth a shot!
First impressions: I like the pump packaging. The product itself is a lot more peach and sheer than I expected. I've used other colour correctors in the past and been baffled at how on earth to apply them to not look like I've just gone rogue! There is only sheer coverage with the dark circle eraser, so if that's not what you're expecting, it's not this product. It has a more oily consistency so it's not a thick cream that you'll be messing your delicate skin around with.
That also means on me, it has a dewy finish that I haven't really worked out how to work with yet to reduce the shine without drying out my under eyes with powder.  I also see that as an advantage because it doesn't highlight the fine lines under the eyes in the same way other heavier products do. But, come on Kat, does it work? I see a difference, but I am going to need to use it a bit more to really decide if it's a repurchase.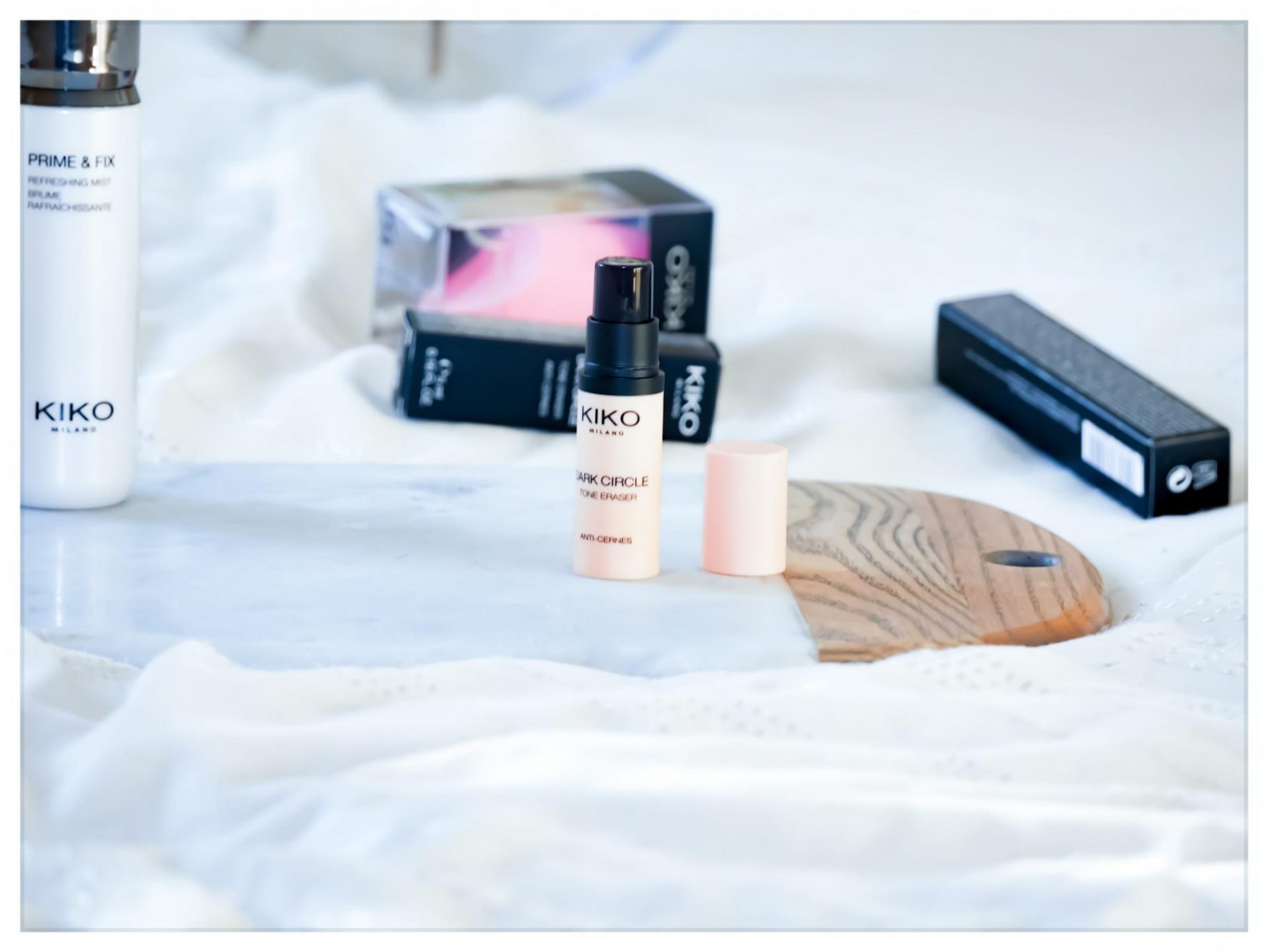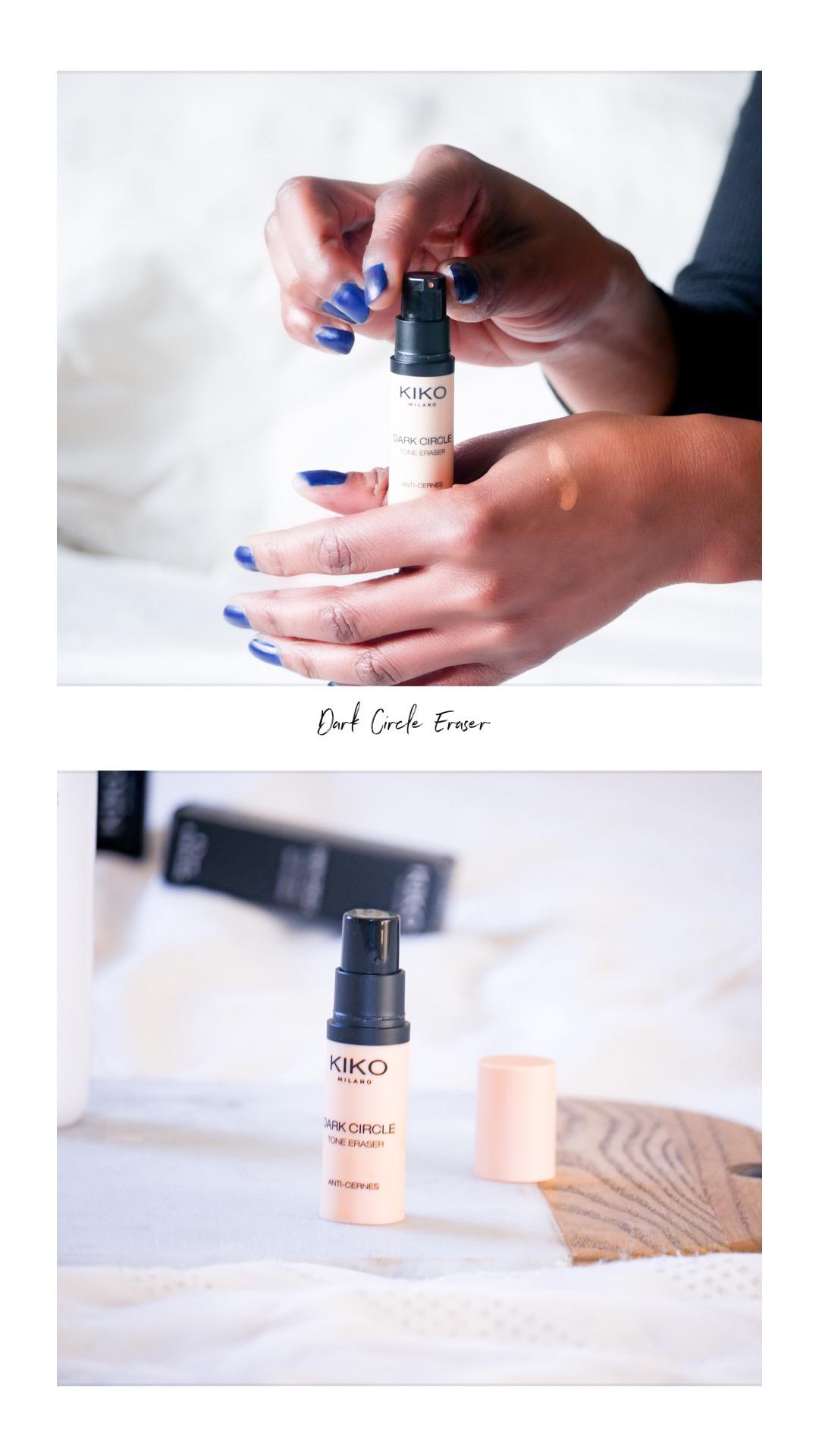 Priming and setting sprays…where have you been all my life! I remember my housemate using Elnette to set her makeup and you know what, it worked! However, there are special formulations these days that are made for the face and not the hair that work a whole lot better. Like eyeshadow primer, it took me a while to get it. But now I get it. I really get it.
So, I picked up the Prime and Fix RefreshingMist Spray for £9.99. First impressions are the packaging is great and looks more expensive than it was. But, what about the product? Well, it claims to prolong the hold of makeup and to be a refreshing primer before makeup and I agree! It's water-based and lightweight with a decently fine spray and it definitely holds my makeup in place.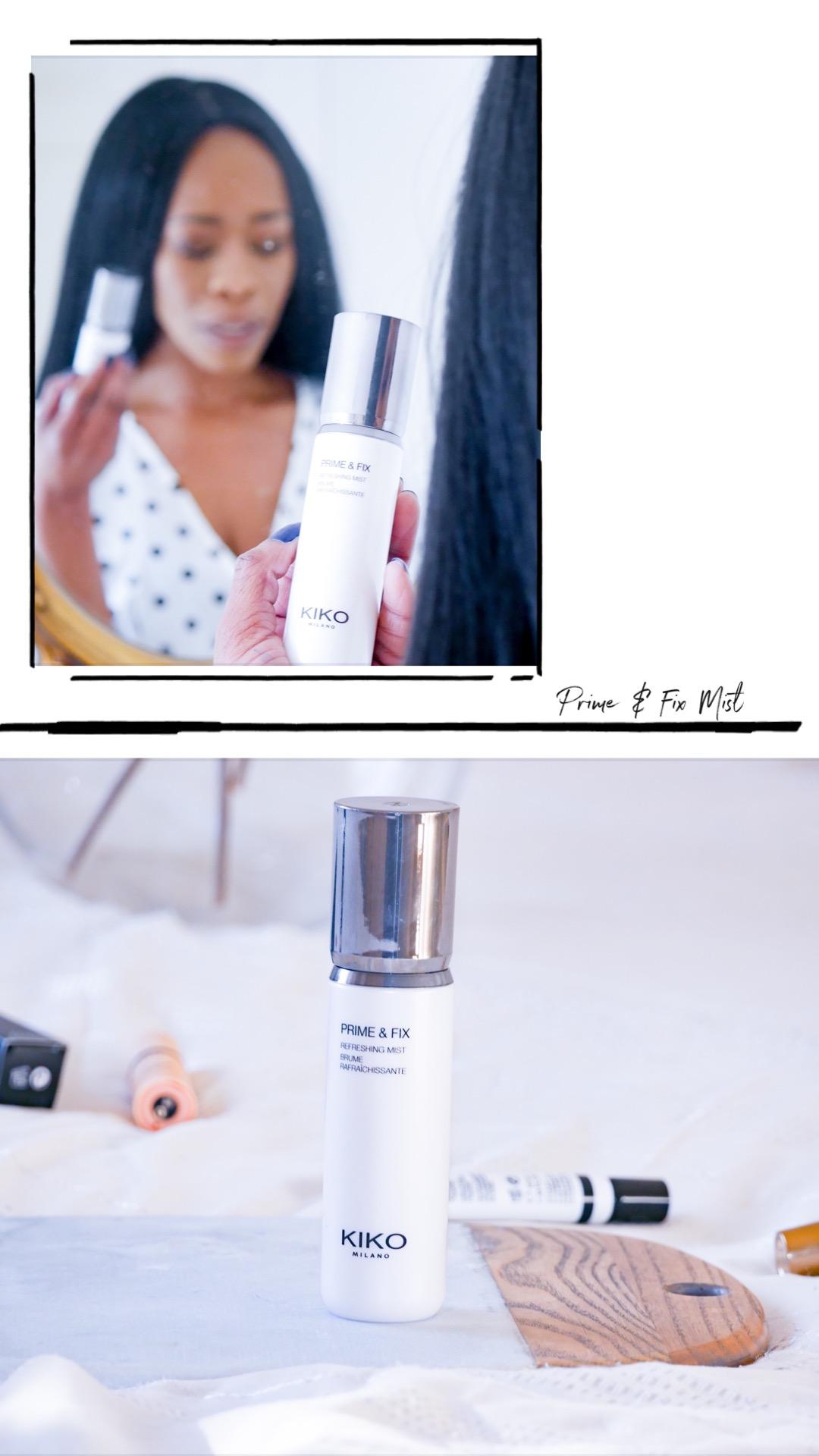 "Water-based spray with makeup fixing action and refreshing primer effect: prepares the skin for your beauty routine and gives it gentle radiance. Inspired by Korean beauty trends, this mist is a multi-purpose and multi-benefit product." – Kiko milano prime & fix refreshing mist
Is the KIKO Milano Prime & Fix Refreshing Mist suitable for oily/combination skin?
I have combination oily skin and it keeps a lot of shine at bay, so yes. It's quite mattifying for me, so I'm not sure how it would perform on dry skin.  I'm going to do a full review when it's empty as it is a new product to the KIKO Milano range. But, the reviews on the site are very positive!
I love mascara. I very rarely wear falsies, because well, I just don't have time for that. And, the anxiety at the thought of them coming off and me ending up with a withered caterpillar on my face is just not for me! So, I try to look for mascaras that are lengthening and thickening and if they offer some kind of conditioning and don't run or irritate, it's the dream. I wear contacts and I teach dance fitness, so I don't need to be Alice Cooper scaring the troupe! This mascara is not, I repeat not waterproof. But, it makes some irresistibly bold claims and all for £7.99!
"This innovative formula is enhanced with K2 Prolash Complex, a combination of active and clinically proven ingredients, offering surprising results. After 30 days of use, tested results show that eyelashes' average diameter increases more than 21 times when compared to traditional mascara".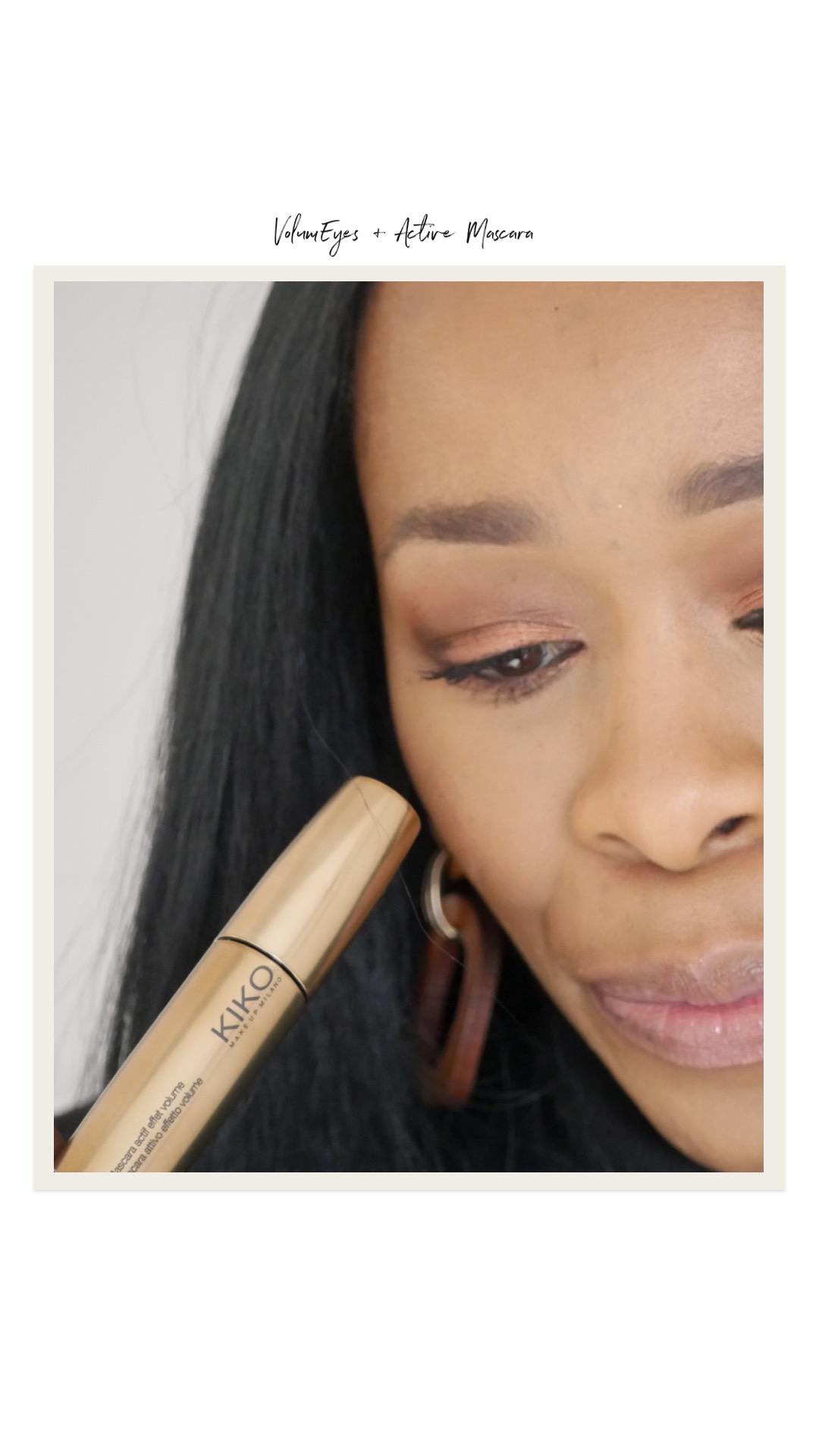 First Impressions: I really like this mascara! It is black, it makes my lashes look amazing and it doesn't flake. The only downfall so far is the fact that it's not waterproof and my eyes water a lot. So, yes, if I'm not vigilant, I can  arrive to pick up my son from pre-school looking like I'm auditioning for a reprisal of Shakespeare's Sister if I don't do a quick reparatory swipe!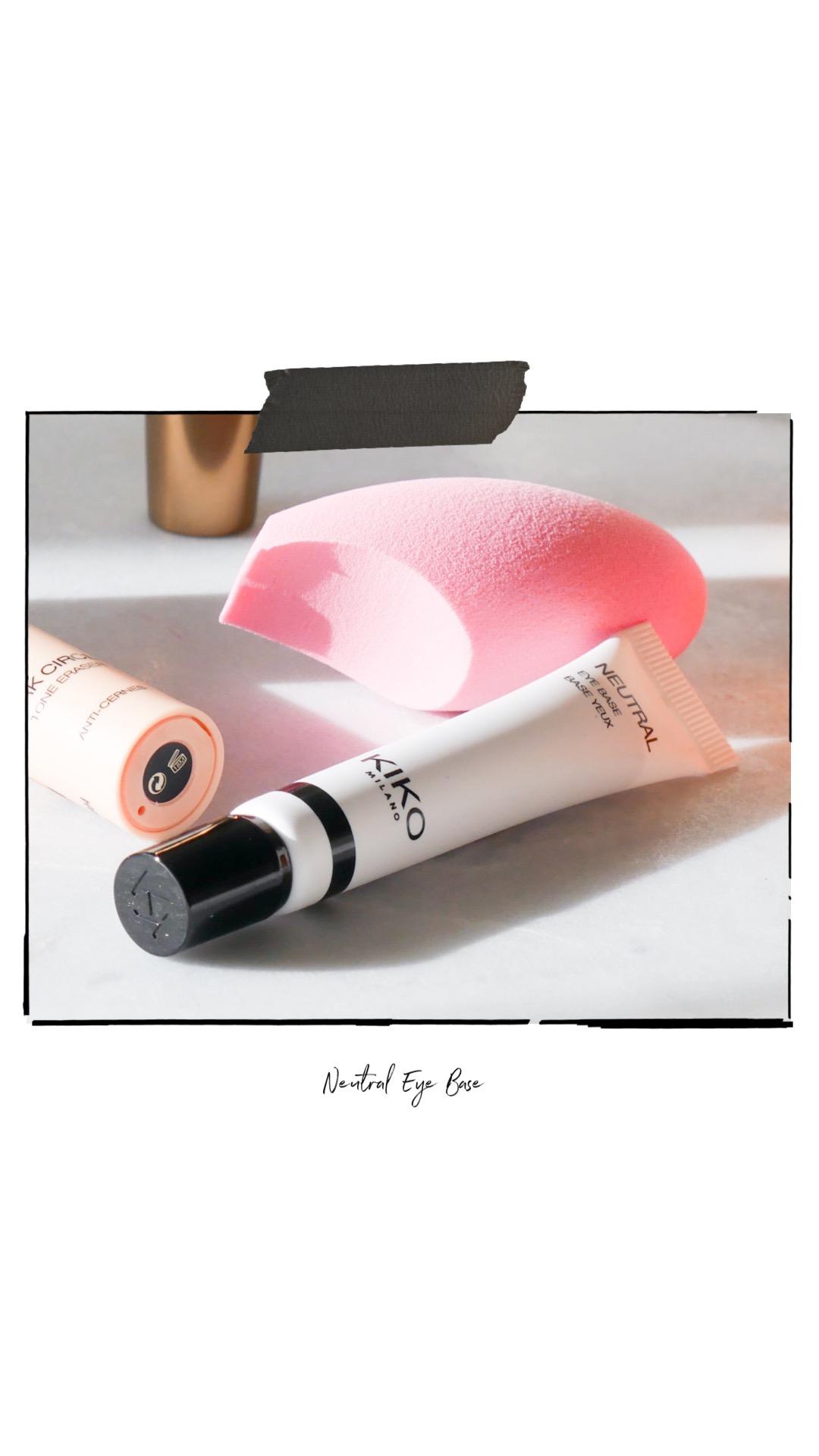 This eye primer is a repurchase for me, so you already know I love it. I never wear eyeshadow without it (and I wear eyeshadow daily). It makes a huge difference and such a little goes a long way. No matter how muted the tone of my eyeshadow is, this just gives the colours more depth and a lot more sticking power. Again, there's more on this from when I first bought it and discovered KIKO Milano in the post that still gets a lot of interest daily. It's around £7.99 full price and a tube really lasts.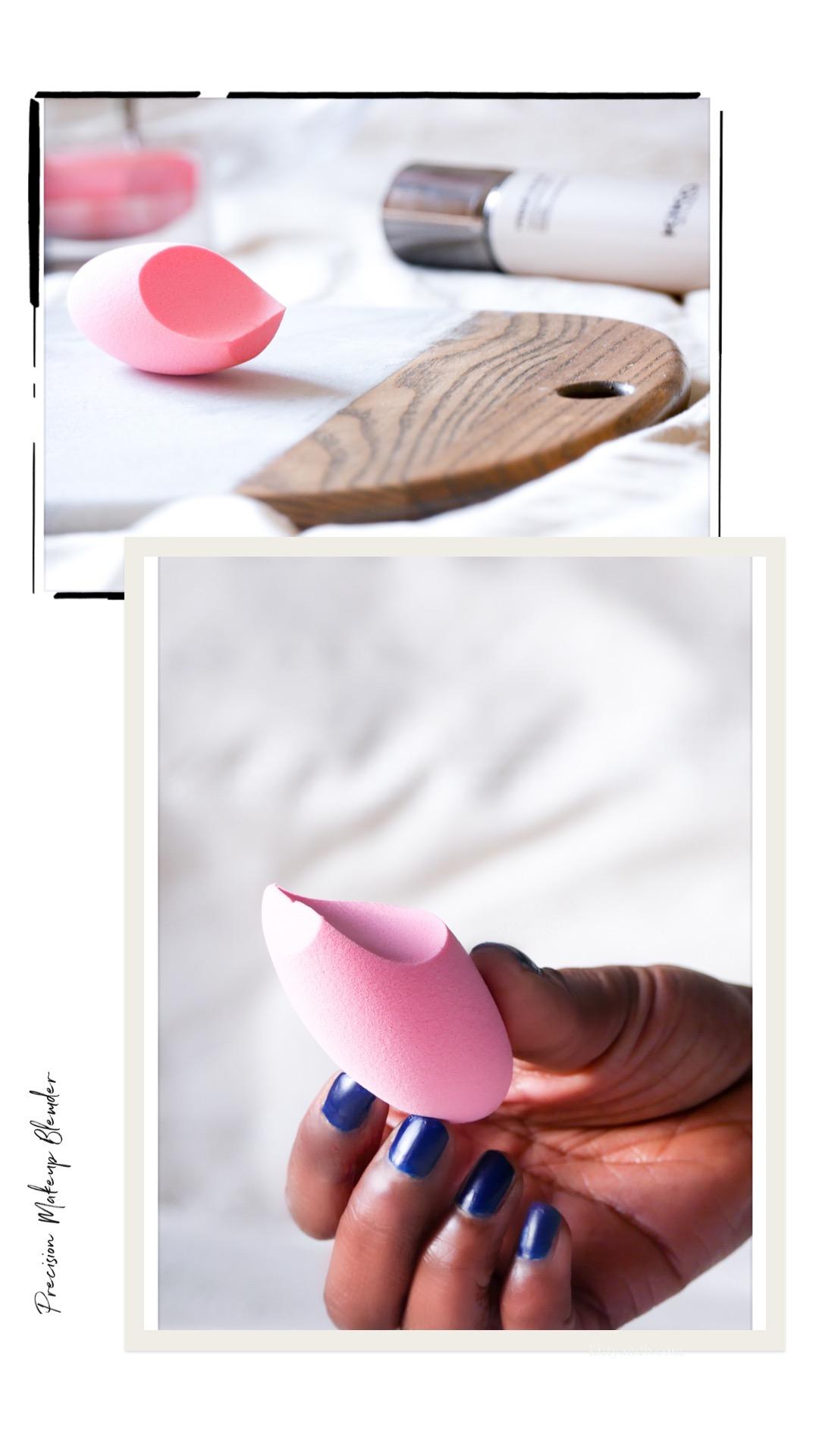 I think we know my thoughts on the Precision Makeup Blender sponge. It was the prompt for this little online shop. It is also one of the first products I ever bought from KIKO Milano a couple of years ago and I've continued to repurchase ever since. This time I bought two because I don't know what's going on in the stores, but from Spain to Leeds it was not in store! It was half price, but at full price it's a really affordable £6.99. There's more on it and my first in-store KIKO spree in this post.
Are KIKO MIlano Cruelty Free?
If you weren't aware, I started actively moving to cruelty free make up, cosmetics and skincare in 2017. Back when I used to be better at uploading to YouTube, I did a video on cruelty free makeup and beauty products.  I have been using the phased approach of replacing each of my products as they run out with more carefully considered products. But, in honesty, I realise I was doing pretty well before. Soooo, long story short, yes, KIKO is cruelty free – they don't test on animals, they don't sell to China and they don't have a parent company.
KIKO does not carry out or order testing on animals, pursuant to the relative European laws. This guarantee does not only include finished products but also the latest generation raw materials, tested from 2004 onwards.
Overall First Impressions of buying From Kiko milano Online
My impressions and thoughts on my first shop on KIKO Milano online are really positive. I can't fault the ordering process, the packaging, the products and the delivery. Actually, I can, I'd love a next day delivery option. But, you know what?  The world needs a little more patience and consideration these days, so that's really not a bad thing!
Did everything work for me? Hmm, well, at this stage I'm on the fence with the dark circle eraser as I need to remember to use it a little more.  I'm still testing out the primer spray, but at this point I like the effect and once I've finished this bottle,  I'll do my final review. I love the mascara, the eye base primer and the makeup blender sponge, so we already know they're going to be repurchases.
Therefore,  all in all, it's a yes!
I'll be buying more online now and earning my KIKO Kisses Rewards that way, too, because you know I love a loyalty scheme!
Check out our YouTube channel here.
Love, Kat x
Follow Kitty & B: Twitter | Facebook| Instagram | YouTube | Bloglovin' | Pinterest
I'd love to know which items took your fancy?  ALSO, what are your favourites if you've bought from KIKO Milano before?