Buying Baby's First Shoes| Hopscotch Shoes Review
Buying Baby's First Shoes| Hopscotch Shoes Review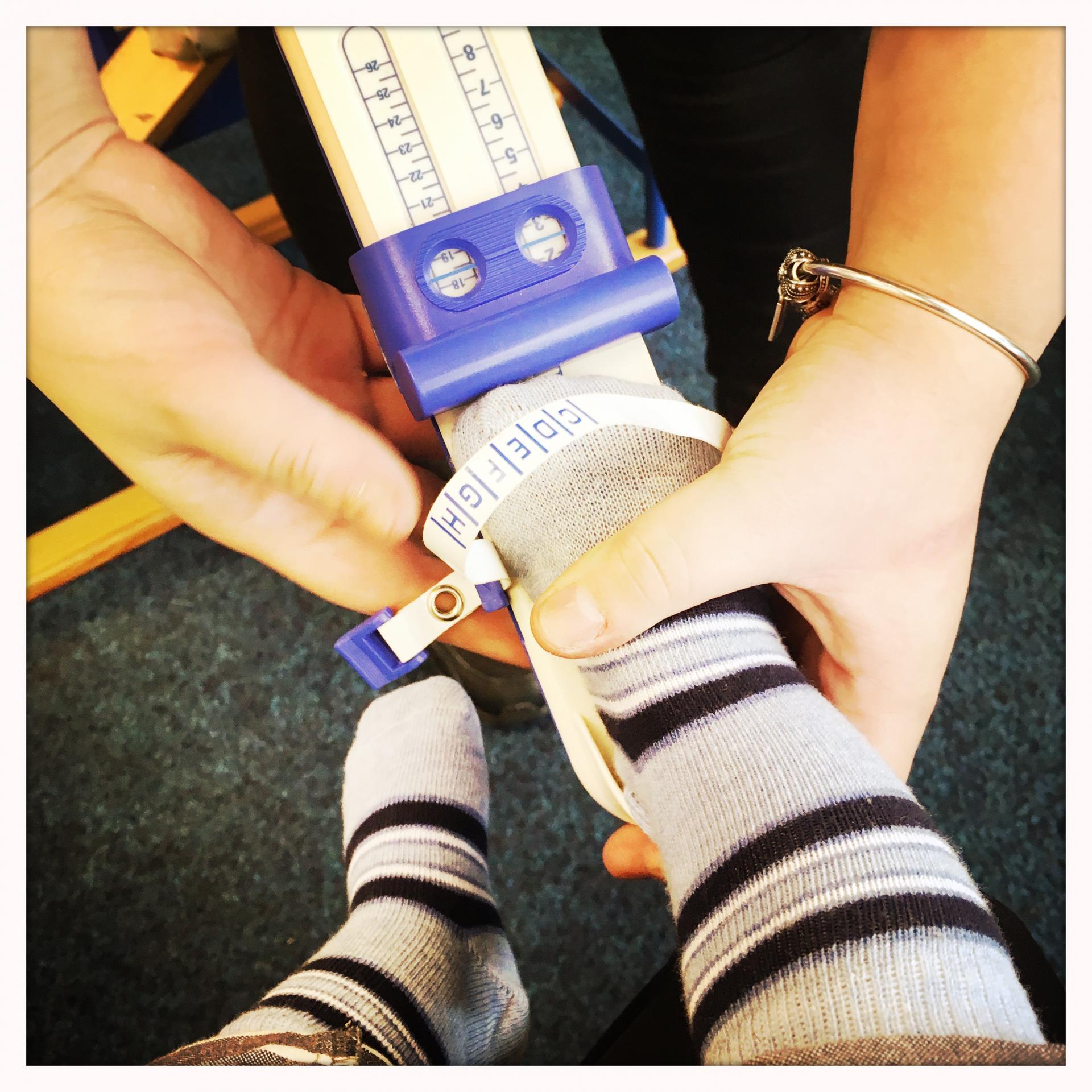 Buying Baby's First Shoes
This week the time came to buy B's first shoes. I know the title says baby's first shoes. And, yes, I know the fact he is walking technically qualifies him as a toddler. But I am struggling to accept it,  and so baby he shall be!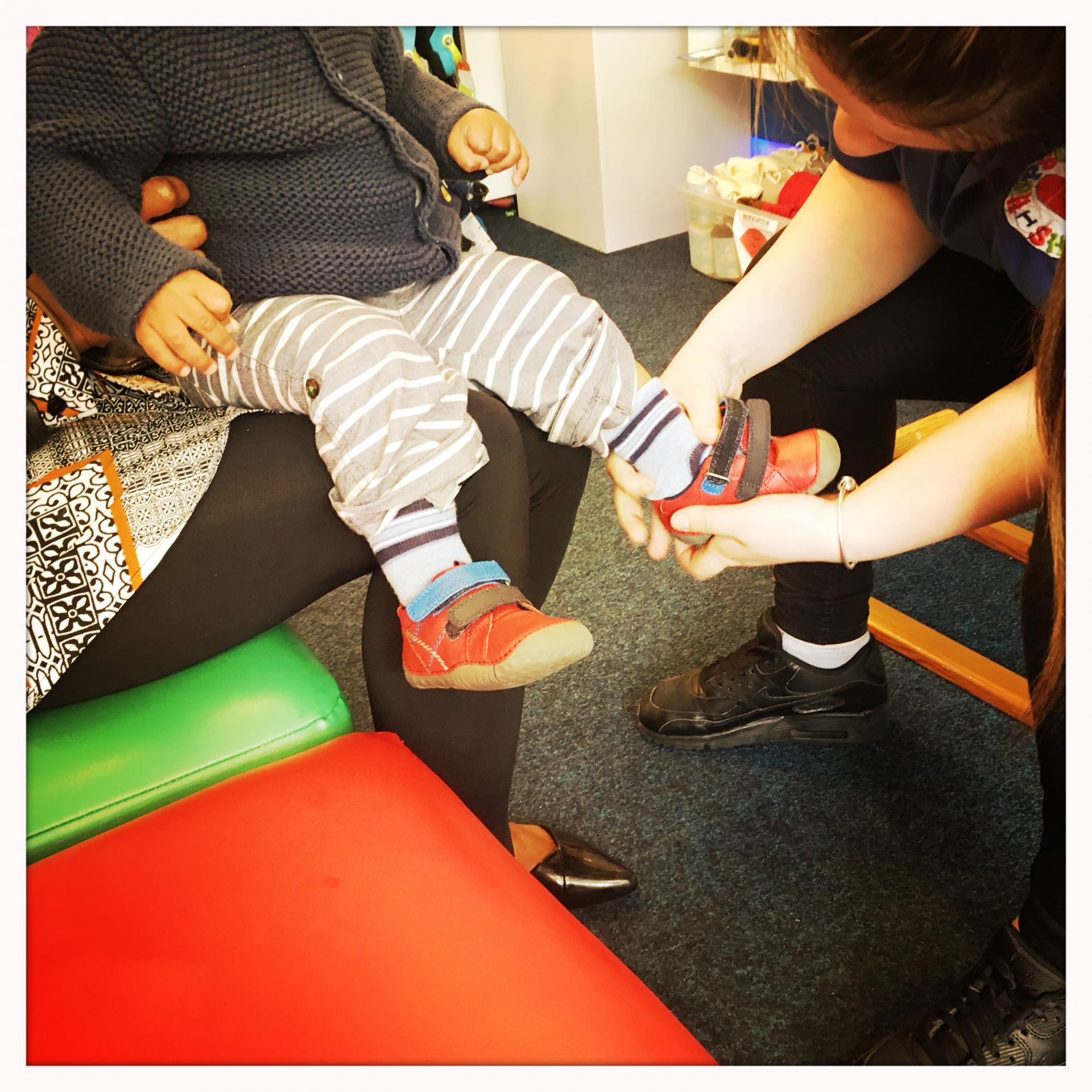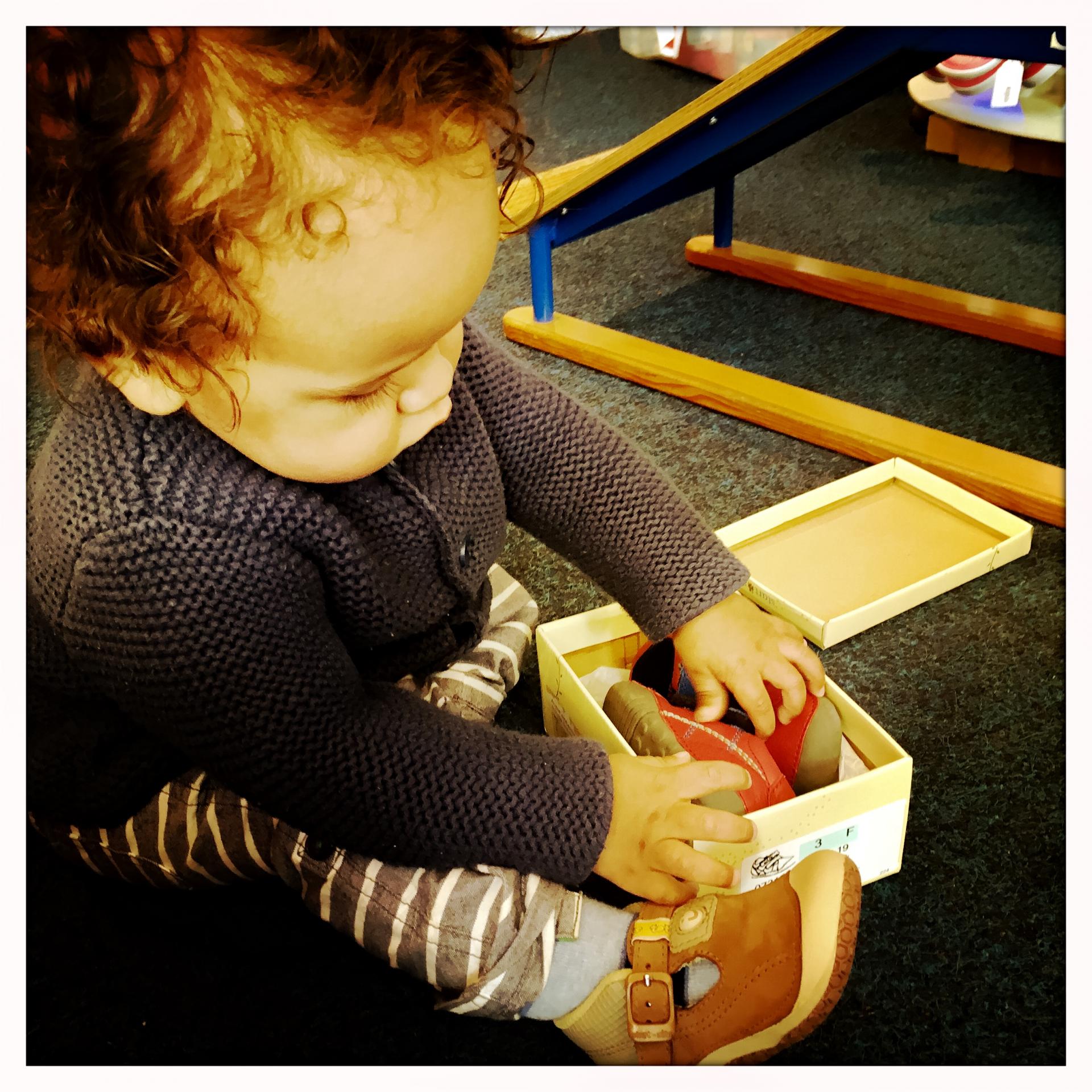 This wasn't B's first pair of shoes, the first ones were the Mothercare first steps pre-walkers you may have seen on our Instagram.  But, these shoes were to be his first 'proper' shoes.
So, I thought I'd share our experience - where we bought them, what we chose and why - along with some essential tips for buying baby's first shoes.
If you have any questions or want to share your story, I'd love to hear it, so do link or comment in the Comment Luv box at the end of this post.
The run up to B's first shoes
As a new parent, you have so many questions about what, when and where and that's kind of where this blog was born: So, I could share some of the things I've learned and take you along on my journey.
So, how do you know when baby is ready for shoes? For us we waited a while. Because baby's feet are so precious and delicate we had preferred not to get shoes too early. That may or may not have been because a Google search and well-meaning cautionary tales produced the necessary horror stories to tell us that shoes aren't necessary until baby is really on the move and taking their first steps. Before then, it's recommended that babies practice their skills with bare feet. 
B was an early crawler and started at around 5.5 months! So, we were bracing ourselves for early walking, too. But,  though he could stand and cruise, he just seemed to prefer crawling. Probably because he could crawl so very (very) fast! We knew he was getting there, it was more a question of when he would decide to showcase his full walking skills. By 10-11 months he was getting braver, which is when we decided to get the gorgeous, flexible leather pre-walkers.
Then almost as soon as we got on the homeward straight to one, he just got up and started walking. Literally! Then, we went from a couple of steps, followed by a crawl,  to walking the entire length of the house  - in only a couple of days!
So,  now was definitely time for the next steps.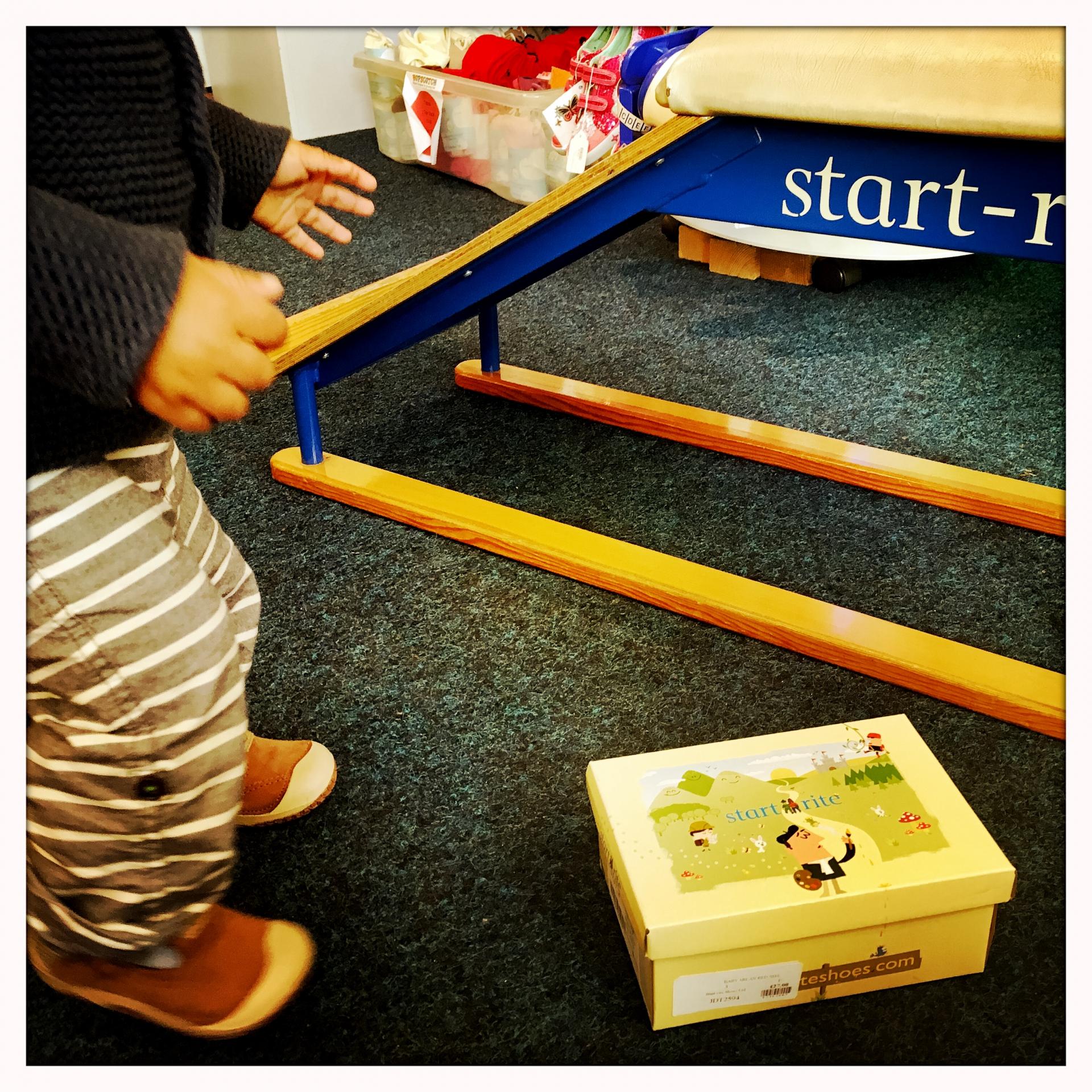 Why Startrite and Hopscotch Shoes?
I'd asked around and Startrite was the name that kept cropping up as my friend's favourite choice for their children's shoes. When in doubt, ask another parent! I like to be organised (to ridiculous proportions) and I had already signed up to the Startrite mailing list. I'd had had a bit of a browse, but this time, I had a proper look. Well, I had to - there was a sale on!
Wondering how on earth I'd know which size to buy, I checked out all the information on fitting. I have to say, I was pretty impressed with all the tools they provide for measuring little one's feet at home and so I ordered the foot measuring gauge.
But, before it came, we wanted to go into a shop and make an event of the baby's first shoes thing! Startrite mainly operates online and even though I am an avid online shopper, for the first shoes, we really wanted to go into a shop. We checked their stockists and there were a few nearby. 
So, off we all excitedly trotted to the shop. We chose to go to Hopscotch Shoes and having checked their Facebook page and my friends' recommendations, I knew we were in good hands.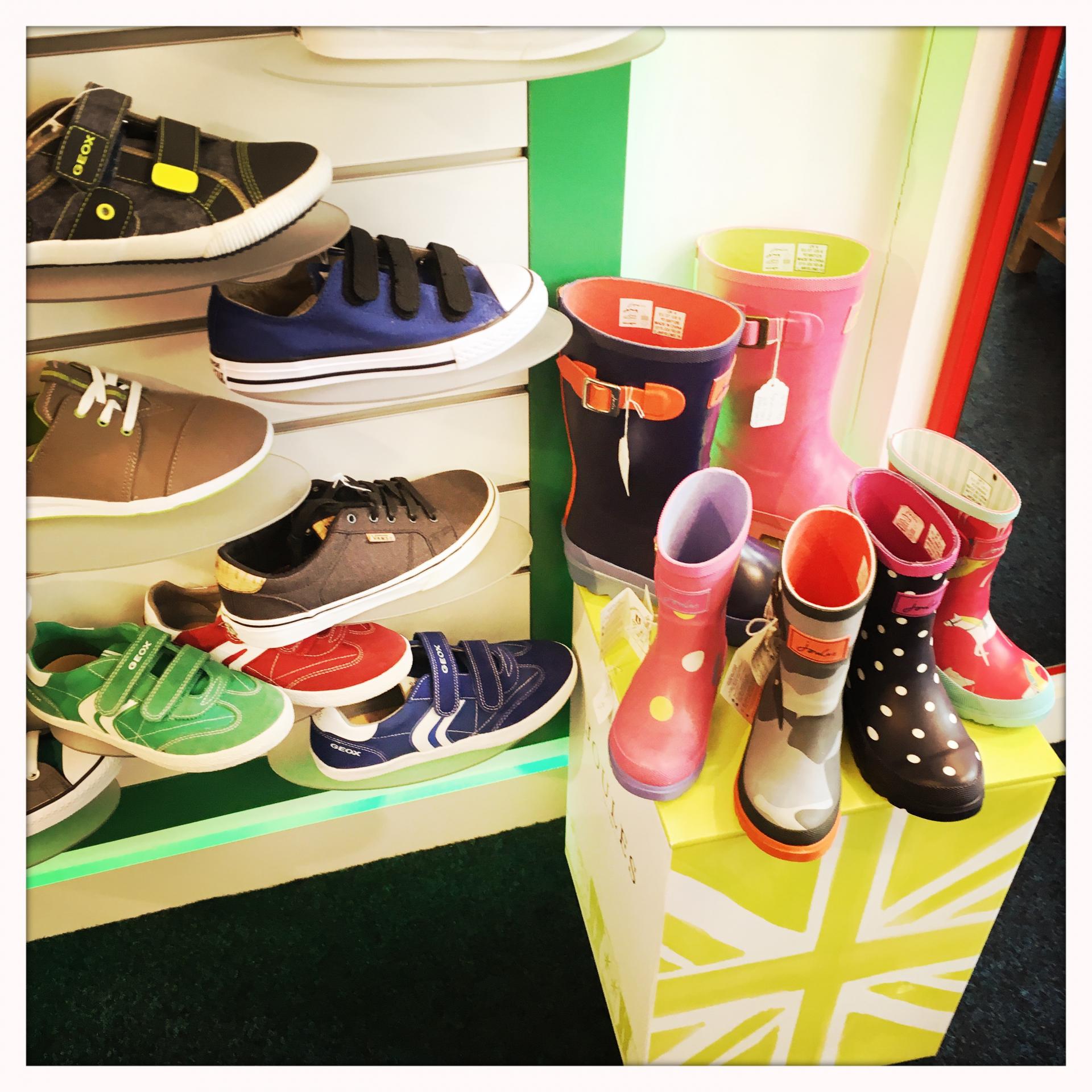 Pram shoes and Pre walkers and first walkers? Oh my! 
Until I had a baby, I never even knew such thing as pre-walkers existed. Booties and just plain ole shoes are what I knew. But, the choices  of all baby/toddler/children's shoes are plentiful (too plentiful at times!) and all in a  bid to protect  and support tiny toes at each step in their development.
So, this is what I understand: Pram shoes are for looking cute in the pram and that's it. Pre-walkers are for babies just getting to grips with being upright and moving, they're like proper shoes, but more flexible. First walkers are for the next stage, but looking around, they are often the same as pre-walkers! Find out more: Baby Shoes Guide.
We knew we had outgrown the lightweight Mothercare shoes, so we were ready to get the big boy shoes. At the time, B was literally still finding his feet, so we were advised that a more robust  pre-walker style was OK for now. To be honest, they look like the big boy shoes, but they have the much-needed extra flexibility, too. Perfect!
B was measured at size 3 (same as me!) and although the range was (understandably) limited at that size compared to the online range, the choice overall at Hopscotch Shoes is really good, right up to teens. They even sell Joules, which if you're a regular reader or follower of our YouTube channel, you'll know is another favourite of ours!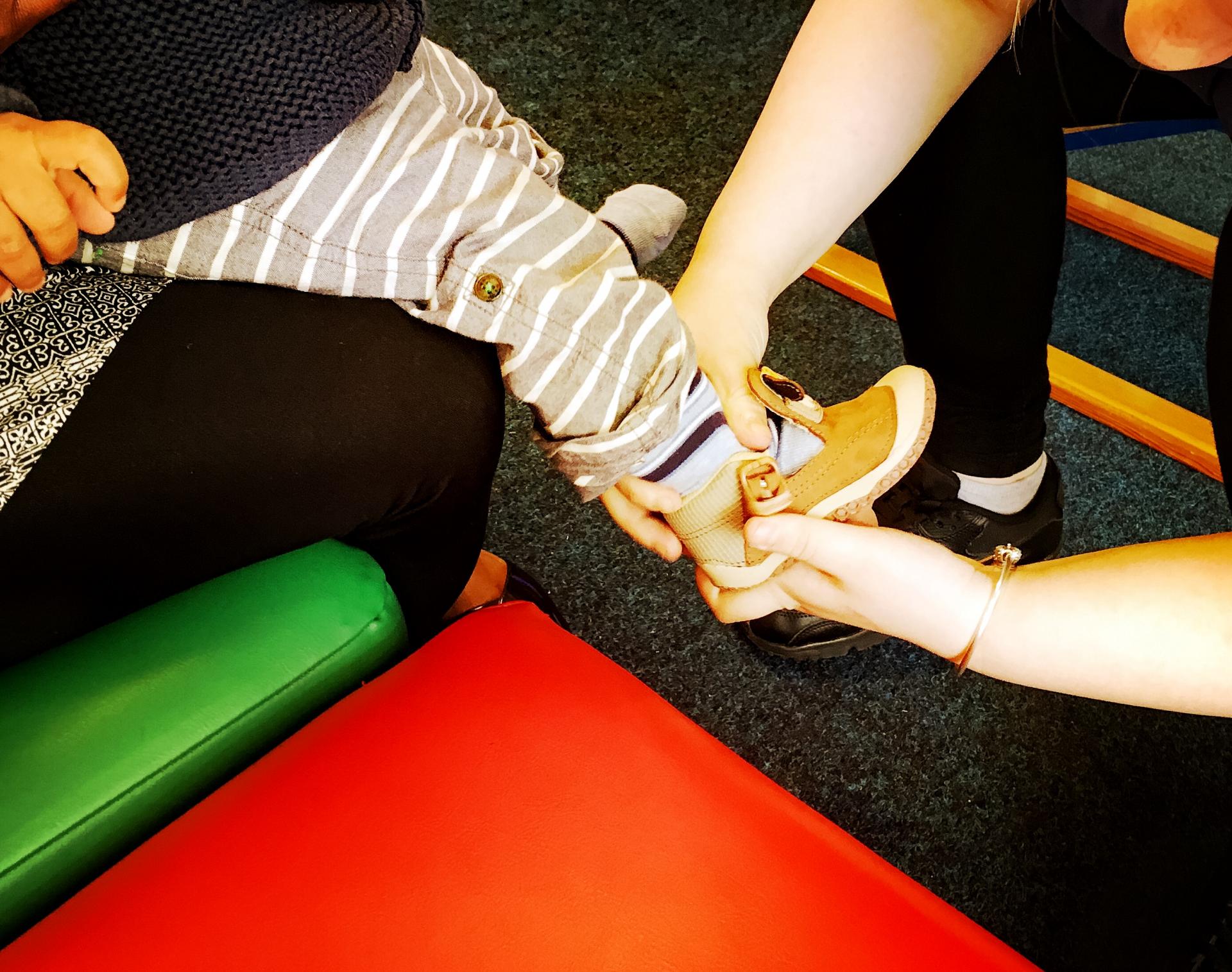 Hopscotch Shoes Review
After the recommendations, I'd given the Hopscotch Shoes Facebook page a like and had a quick scroll through the website, which were both full of useful tips and tricks and photos of lots of happy customers of all ages, so we were expecting good things!
The shop we chose was easily accessible and easy to find and we were greeted with a warm welcome and immediately felt at ease. We were right to - the staff were fantastic - very friendly and knowledgable and helped make the experience special. The lovely lady who helped us was happy to answer all my (plentiful) questions!
The range in there was smaller at our size, but covered a vast range of sizes, styles and ages overall. Having looked around, I can already feel a toddler shoe obsession coming and trumping my own!
We chose the Startrite Tots shoes in the end, with the red Startrite ones, coming a close second. We actually said afterwards, that it was funny that the shoes we chose would not have been our first choice had we seen them online. But, once they were on and we saw them in action, we knew we made the right choice. They are super quality and have a broad toe, but work well with B's narrow ankles.
As, I mentioned, the sales assistant was wonderful and so much so that B actually didn't want to leave. He practically ran around the shop picking up shoes and generally entertaining everyone there. The new shoes were on and good to go immediately. Not a tear was shed by him, but there may have been a little one from me.
What was lovely is that we also go a Polaroid (it took a few attempts!) to keep as a memento. It came personalised with the date, size and style of first shoe, which is such a thoughtful touch.
What happened next?
Big changes were afoot (sorry!) immediately, because these shoes have actually stayed firmly on B's feet from day one. We could never get B to keep socks on, but, shoes is a different matter all together. He loves them!
Forward to one week  later and  B was walking and even running more confidently everyday. So much so we even had a couple of little strolls to the shops, some romps through the park, and a  meander around the aquarium. He is clearly loving his new-found independence and his excitement just melts my heart!
We loved the experience of getting the shoes at Hopscotch and wouldn't have wanted it any other way, and even though I'll venture to buying the next ones online, we'll definitely be back to Hopscotch Shoes.
The score
We could only give 5 stars. Happy B = happy me!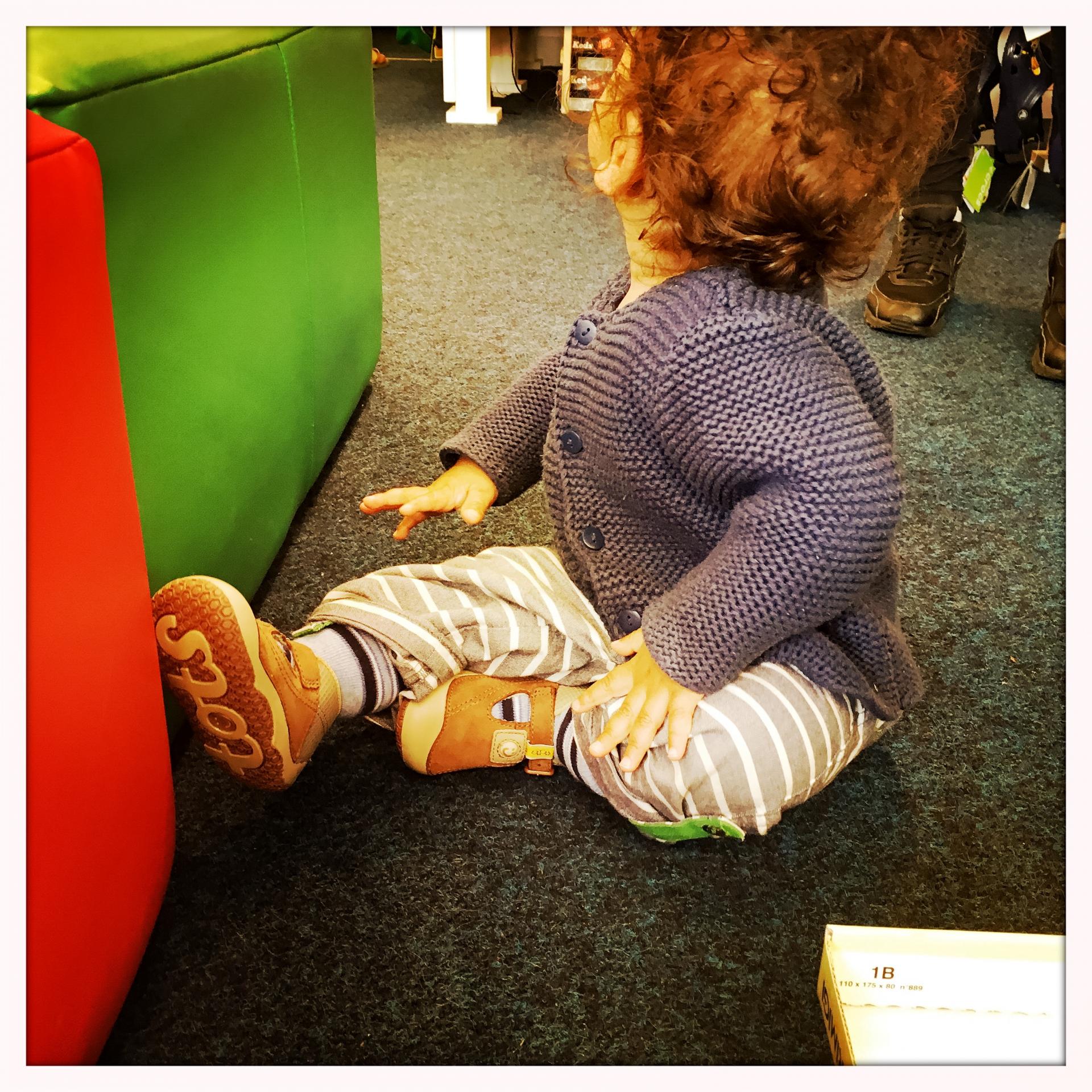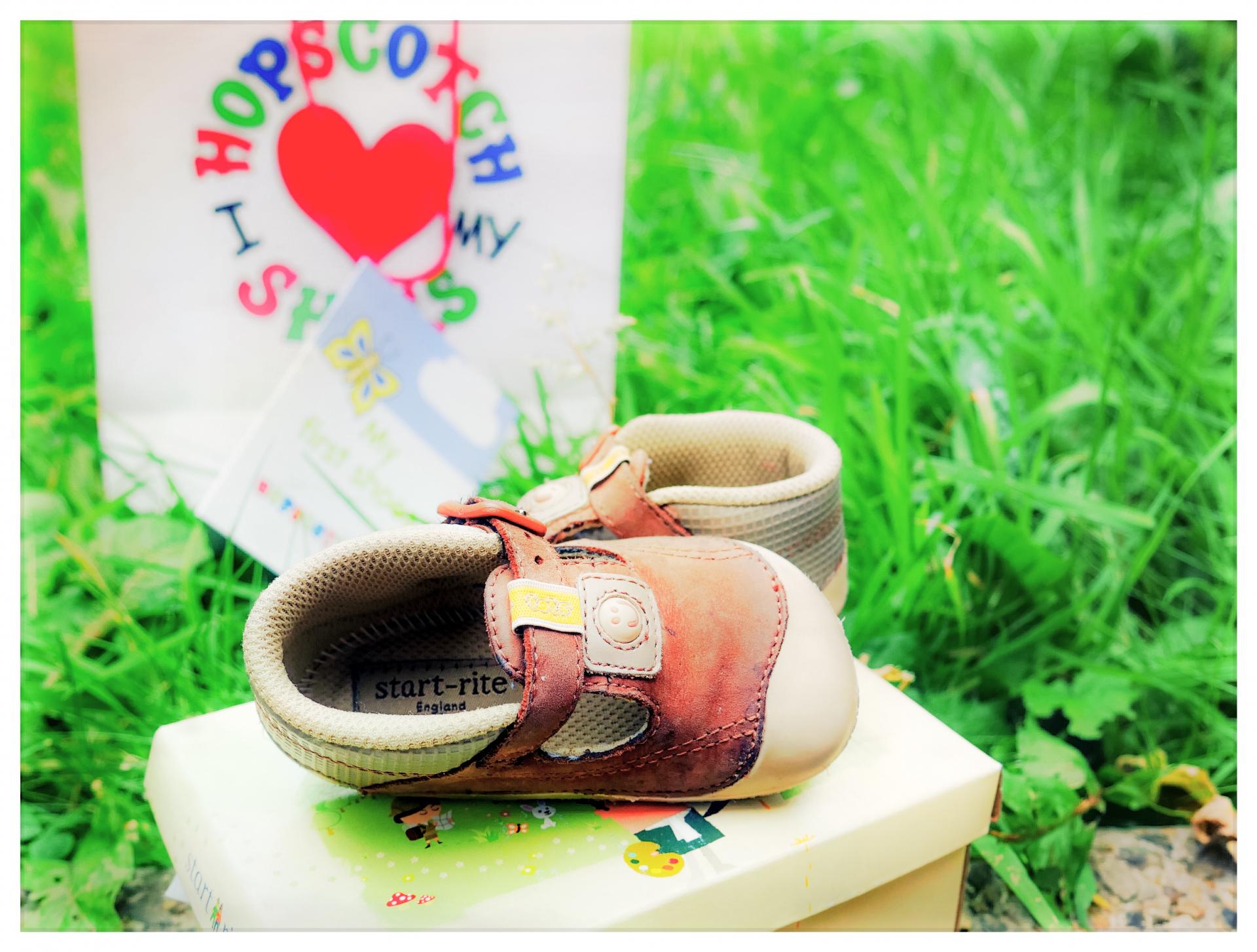 "Did you know that the bones in children's feet don't fully harden (ossify) until the age of 18. This is why it's important to continue to have their feet measured and shoes fitted throughout their growning years. Pop in anytime and we'll happily do a quick check to make sure their shoes are fitting well".  - Hopscotch shoes Facebook page
Essential Tips For Baby's First Shoes
Babies don't need their first proper shoes until they start walking 
When buying baby's shoes in store, don't forget to take socks for hygiene reasons. I always carry a spare pair in my changing bag, so  I was glad I had some that day as we'd thought it would be best not to have him in socks for fitting. 
Check the fit every 4  t0 8 weeks up to 3 years old and 8-12 weeks as they get older. - Hopscotch website
 To check the fit, press baby's toe as he's standing comfortably in the shoes, to ensure his feet have enough room. Takes me back to having my toes pressed in sensible Clark's shoes - when all the while I was dreaming of heels!
There should be a gap of 1cm between end of your child's toes and the end of the shoes. - NHS website
Buy shoes with rip-tape/velcro and fasteners to ensure the shoes don't slip off and toes don't scrunch to keep them on
Look for shoes in natural materials, such as leather and canvas to make shoes more breathable and avoid the risk of fungal infections
Use cotton socks, again to help with breathability
If you're concerned about shoes not fitting properly, there are 4 signs to look out for -skin, nails, deformities and posture. Find out more: The College of Podiatry
To measure at home, buy a measuring gauge like the one used in the shop. If you're unsure, there's a video tutorial and loads of information. Find out more here: Shoe Fitting Guide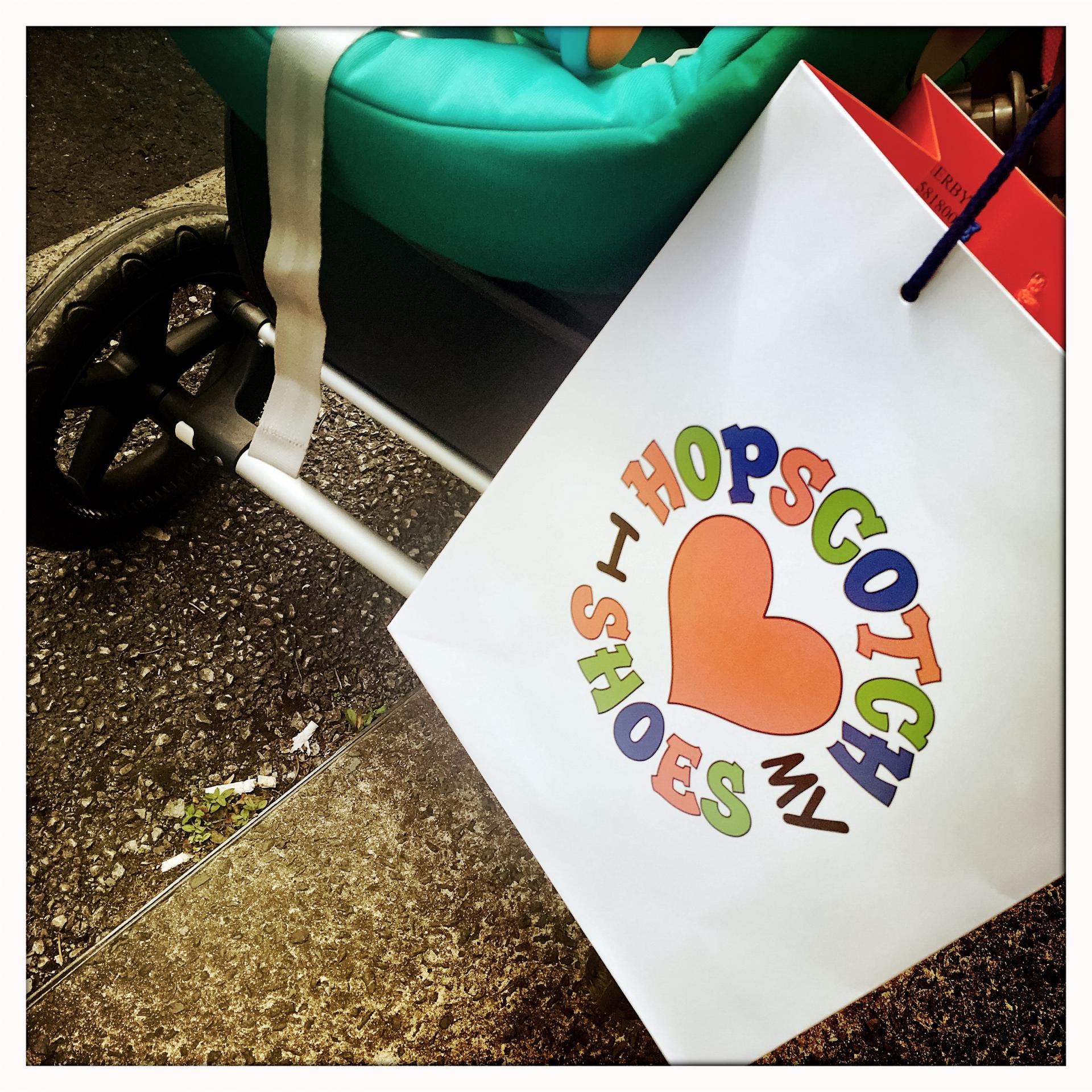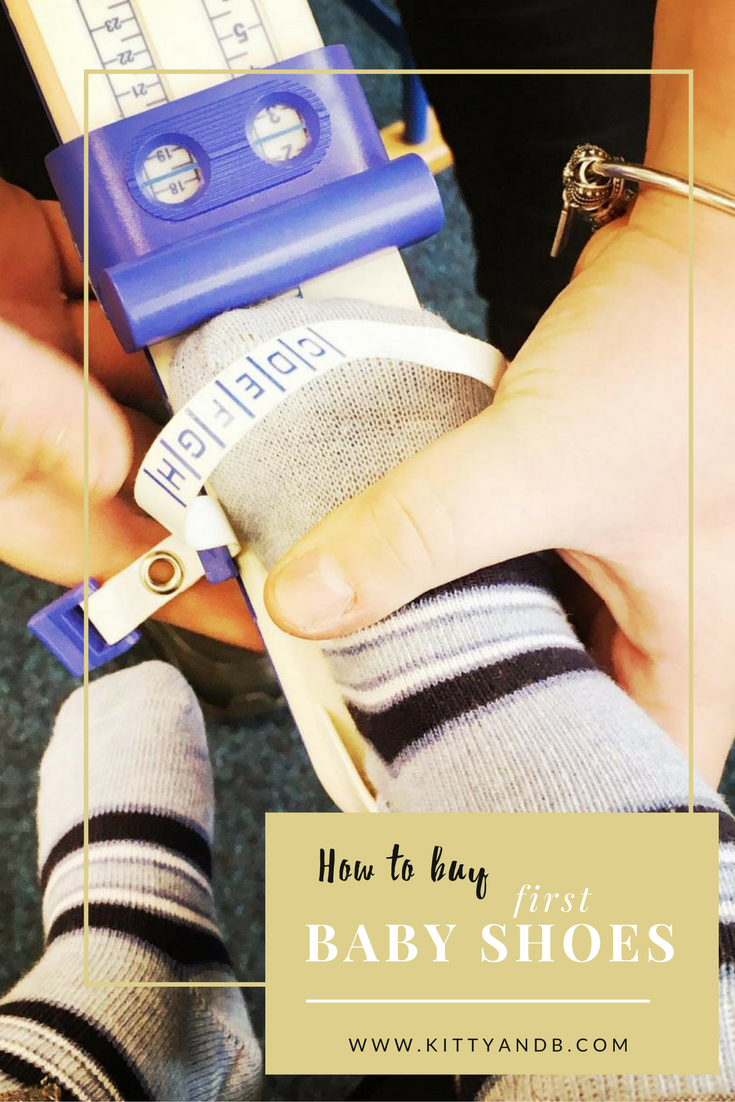 Summary
Reviewer
Review Date
Reviewed Item
Author Rating