Discount M.A.C Haul Revisited| Strobe Cream Giveaway
Discount M.A.C Haul Revisited| Strobe Cream Giveaway
Discount M.A.C Haul|Revisited 
I talked about my last huge discount M.A.C haul right at the start of this blog and about my affinity for the colour palettes and long-lasting formulations of M.A.C products. Growing up, it was always a real issue trying to find the right shades of makeup for my skin tone. Until, funnily enough, I discovered M.A.C when I lived in Germany. My ex was in the stage show Saturday Night Fever and they used M.A.C and so got a discount in store. Which I took full advantage of!
And that's where it started.
I mentioned that it's not easy (darn near impossible) to find genuine, discounted M.A.C products, especially in darker shades, but I found them! In fact, I had a couple of  people who understandably questioned whether or not they were genuine products. They are 100% genuine. I shop the Luxury Sales site a lot,  as you'll know if you're regulars to this blog and I would never buy or use and certainly not recommend duff products or products I don't own, aspire to own or haven't been reliably recommended. It's in our honesty policy, because that's really important to me. 
So, rest assured we're all above board, because I got an official confirmation from the Sales site and I have been enjoying my haul ever since. Yep, it's still going strong. So much so, I thought I'd revisit it and also do a giveaway on one of the cult products, the Strobe Cream. That's because being a busy new mum  (and perhaps over ambitious in what I thought I'd achieve make up wise) has meant I haven't opened or used it - despite aching to. So I thought why not give it to someone who will?
I got up to 30% off everything I bought, which was perfect as I was just into maternity leave.  I went on a major saving mission and had purposefully bought very little or bought very strategically for myself throughout pregnancy (making lists, comparing prices, researching the best deals, maximising offers as that's really what I'm like!). But, I had put some savings, vouchers and my gift money aside for a couple of push treats! I knew it would be a while before I would, so I thought of the long-term money-saving. And the mummy-saving! I was right, as I am still going strong and haven't had to buy anything further since!
Discount M.A.C Haul: What I bought and Reviews
So, first up, here's what I bought and then what I've used most and least from that haul. I bought:
M.A.C Pro Conceal and Correct Palette (Dark) NC45, NW45, NC50, NW55, Ochre and Pure Orange RRP 35 (I paid £27)
M.A.C Studio Fix pressed powder NC45 RRP 22 (I paid £17)
M.A.C  Studio Finish Concealer NC42 RRP 16 (I paid £12)
M.A.C Mineralize Eyeshadow Blue Flame RRP 18 (I paid £12)
M.A.C Sheertone blush - Peaches RRP 18.50 (I paid £13)
M.A.C Sheertone Summer blush - Sunbasque RRP 18.50 (I paid £13.00)
M.A.C Strobe Cream RRP 24.50 (I paid £19)
M.A.C Bronzing Powder - Refined Golden RRP 22 (I paid £16)

My Least Used Products
So, let's start with the used the least list. These are just my reasons why I haven't used them as much. I still love the products and they will be used, but, as I said, these are the ones I've reached for least:
M.A.C Bronzing Powder - Refined Golden and M.A.C Sheertone Summer blush - Sunbasque
These two are least used for the same reason - I don't particularly like the shimmer for the daytime. I'd prefer them for a night out or holidays. As I rarely have nights out (sob!), they haven't been used as much as they might have done pre-pregnancy!
This was one of the ones I was most excited about! It claims to be  "The ultimate quick fix for the skin. Super-powered with potent botanicals to refresh and moisten. Boosts the look of dull, flat or tired-looking skin with nutritious vitamins and a mega-dose of green tea. Brightens and clarifies with iridescent particles and antioxidants. Enhances the effects of light on all skin in all lighting conditions from sunlight to spotlight." 
Sounds great, right? But,  I'll be honest, despite watching numerous, YouTube videos on it and actually desperately needing a radiant boost, I just haven't gotten to it. As, I said, it hasn't even been opened! Which makes me very sad indeed. I like to make the most of every last drop of my products and am not into keeping things languishing, so, I thought waste not want not, karma points will be mine by giving it away! After having a proper clear out and declutter, I realise I have some other as yet unused,unopened, but in date beauty products that I am keen to give away, too. So, make sure you're subscribed because I'd like them to have a good home!
M.A.C Studio Fix pressed powder
I've always been a pressed powder gal. I find it easier and a lot less messy on-the-go. But, I have been converted by YouTube once again and have been using both the Ben Bye banana and topaz powders and Sacha Buttercup setting powders for a while now. They last for ages, especially as you don't need a lot. When I do use the pressed powders, I apply with a brush, rather than a sponge applicator as I prefer the finish that way.  Where to find Ben Nye and Sacha Buttercup in the UK? I know they're not that easy to source, but I got mine here: Ben Nye UK and Sacha Buttercup UK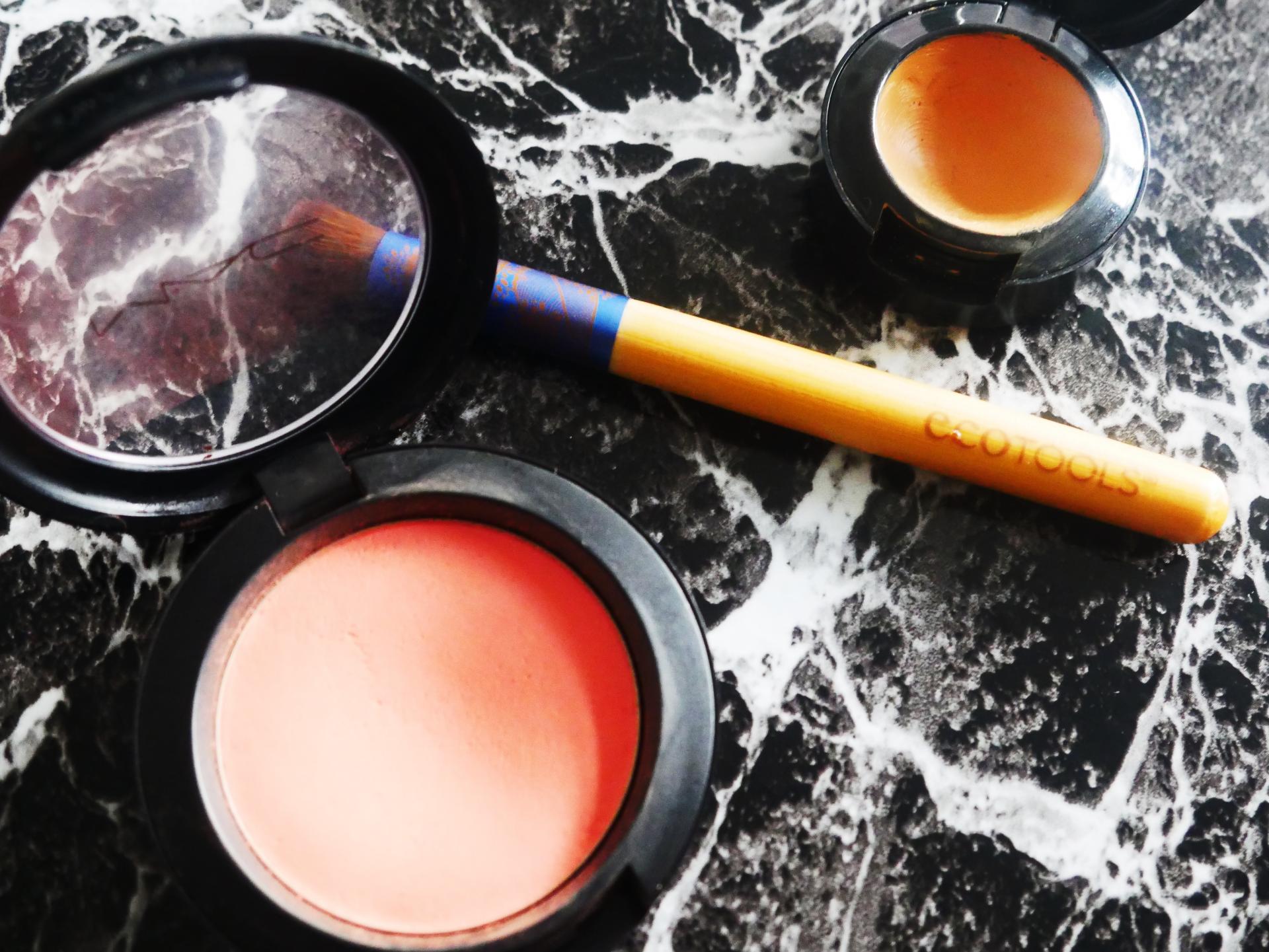 MY M.A.C LOVE LIST
M.A.C Pro Conceal and Correct Palette (Dark)
I use this almost daily as it essentially 6 products in one! I mainly use it to contour and conceal. Again, the yellow colour correct is barely used. The orange, I've tried a few times, but I can't seem to get it right. Lovette's House of Style made a video on how to use. I've watched it, I've liked it, now, I need to put it into practice! But, seriously, I love the versatility of this palette. I use NC45 to conceal and tidy up my brows. NW45 and NC50 for a more natural contour and also to add colour to my face. Finally, I use NW55 for a more dramatic contour. Even at full price, I think for what you get and how long it lasts, it's totally worth it.
M.A.C Sheertone blush – Peaches
This is a matte blush in a really pretty peach/pink shade. I just can't get enough of it. It adds a subtle (yet buildable) pop of peach/pink and of course, the product lasts forever! I'm wearing it over a cream blush in our Shoe Haul video on YouTube, so check that out (when I finish editing!).
M.A.C Mineralize Eyeshadow Blue Flame
This is a bit messy with all the added particles, so you'll need something to stop it going anywhere, but I love the colour. It's a black with flecks of iridescent blue and silver for a really striking smokey eye. It's buildable too and a spritz of any fixing spray or even water, will intensify the colour. Great for a striking colour pop and looks really pretty on darker skin and eyes. Even if I do say so myself!
So, if you've found this useful, please let me know and also share the love and share it for me.
 
Giveaway Details
If you'd like to enter to win a 50ml M.A.C Strobe Cream, you'll need to enter via the widget below.
Compulsory:
You must leave a public comment  and let us know what are your makeup/skincare/beauty/grooming heroes -which product/s have you reached for the most this month?  If you've got a blog or a YouTube channel, don't forget to leave a link with your comment.
Earn Bonus Entries:
There are lots of ways to get further entries and increase your chances of winning.
This isn't administered by, or in conjunction with Secret Sales or M.A.C.
Eligibility and Closing Dates 
This giveaway closes on 10 September 2016 at midnight London time. Winner will be contacted by email and then announced within 72 hrs of the closing date.
This giveaway is open worldwide, you must have a postal address and this product must not be subject to any restrictions.