REN Skincare: Flash Hydro-Boost Review
REN Skincare: Flash Hydro-Boost Review
Introducing REN Skincare Flash Hydro-Boost
I discovered the REN skincare name through Birchbox last year, so I've been really excited to have been given the chance to preview and test the Flash Hydro-Boost.
This is the perfect time for me to explore more beauty tools -my skincare routine and products haven't really changed much since my 20's!  I've tended to stick to or come back to the same ranges from Clinique, which I mix up according to season. But, I'm getting to the bottom of my staples and my skin has changed through age, sleep deprivation and having a baby. Yup, life will do that to your skin. So, I really have been really eager to start exploring new products for my changing, tired, 30-something  face!
Why not sooner? My skin can be sensitive and having had terrible break outs from products in the past, I've been very cautious. But the other reason is, with so much on offer out there, I haven't really known what else to try. That's where REN Skincare have saved the day!
REN uses only 100% plant and mineral derived actives and is free from skin-unfriendly synthetic ingredients.
I've talked about this in a lot of posts, but I like to do my research and compare reviews before I can feel ready to commit to a new product. And, whilst price is a factor, I'm really concerned with whether it's worth it? How long does it last? Do I like using it? Does it deliver as promised? And for beauty products: do I have time as a busy, working mum to actually use it?
Right now, I'm exhausted and it's my sister's wedding imminently, so I have lots of photos coming up and, of course,  want to look my best. So with some excitement and trepidation,  I thought this might be a good time to take the leap and try a new product. I did seriously consider postponing trying the Flash Hydro-Boost, in case my skin reacted. But, thankfully, that has definitely not happened. Well, not in a negative way anyway!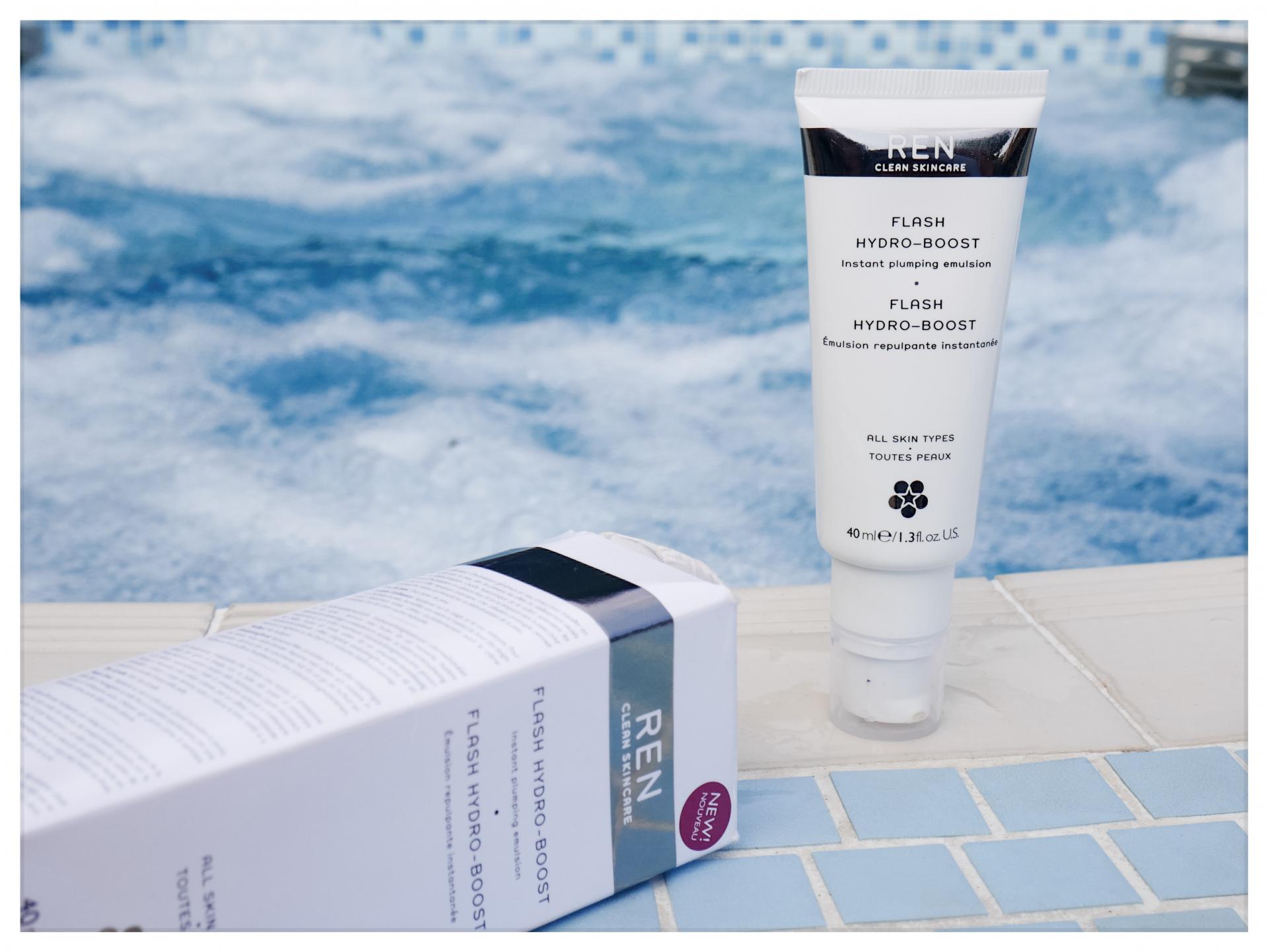 REN Skincare
Before I got my paws on Flash Hydro-Boost, I did a bit more digging on REN Skincare as a brand and have been really impressed. What I love about the REN Skincare brand is the clean skincare ethos and that extends right the way throughout production, formulation etc. They are a cruelty free brand, and almost all of their products are vegan. Something that I now want to extend throughout my whole beauty and makeup routine as I become more interested and aware of ingredients and production. Did you see our latest New Cruelty Free Beauty and Skincare launches YouTube video?
What are the active ingredients
I'm no pharmaceuticals or skincare expert, but I was really interested in what the ingredients actually are and what they do!  Firstly, the bio extracts and what they do, sourced from the REN Skincare website and other reliable sources:
Hyaluronic Acid from Yeast instantly boosts water in cells to optimise levels and plump the skin
Germ Peptide from Carob Seed enables transport and circulation of water through all layers of the skin
Xylitol from Sugar captures surface moisture by forming natural moisturising factor components
Ceramide from Carthame Oil and Phospholipids from Soybean mimic an intercellular glue to form a barrier against water loss
Here is a full list of ingredients.
So, essentially all the ingredients are formulated to work together to bring hydration to your skin and bring back some life, smoothness and some oomph. Hence its use as an instant plumping emulsion. Sounds perfect!
What makes Flash Hydro-Boost different
The main difference to anything I've personally used is that it is activated by water, so you smooth it on, and then use water to really get the active ingredients working. They're all products known for their moisture optimising properties, so together with water,  they become a hydration boosting, skin-plumping super team.
The other thing is that you can also use it under your usual moisturiser. Before starting,  I'd worried that this might make my skin feel clogged, but because the ingredients are 'clean', and the product feels lightweight,  I can see why you can layer it with other products.  I haven't yet felt I need to do this, as I have found that I am loving the effect on its own. But, as it gets cooler, I will try it with a moisturiser and will let you know what difference that makes.
 Which skin type?
Flash Hydro-Boost is suitable for all skin types.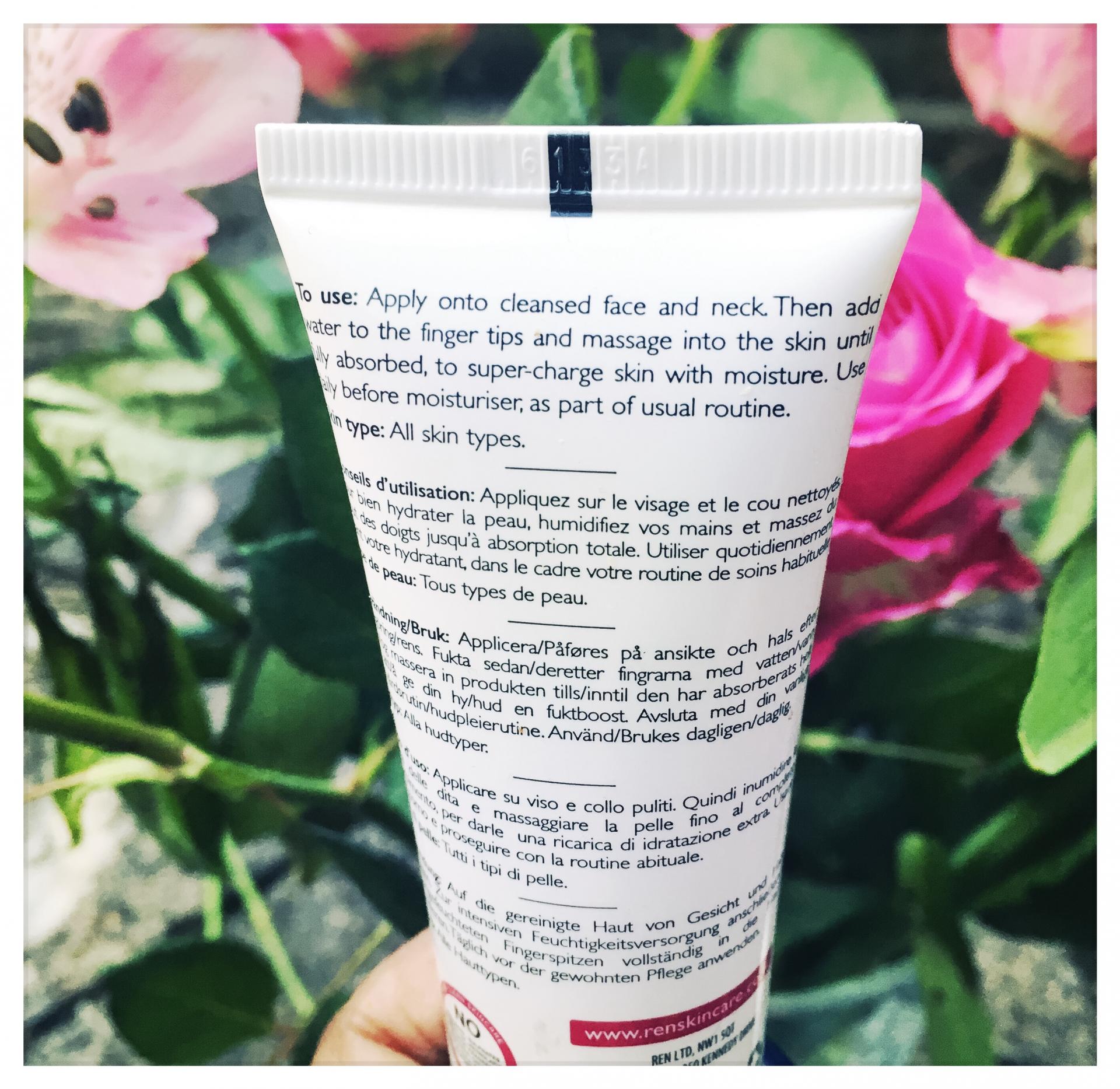 How do you use it
You apply a small pump of the Flash Hydro-Boost to your face (and you really only need a little) and then add a little water to your fingertips. I got carried away the first time I used it, a little goes a long way!  You'll notice that it smells beautiful too. But, the fragrance is very light and it's 100% natural. So, no nasties!
Then you massage that in in circular movements until it's fully absorbed. Thankfully, it doesn't take too long, et voila! I actually found on first use, I was a little keen and my skin initially seemed a little sticky to touch and I panicked. But, fear not! Keep massaging it in until fully absorbed – your skin will have an intensely moisturised feel and an almost silky veil.
Which means, it's also a really good hydrating and illuminating primer.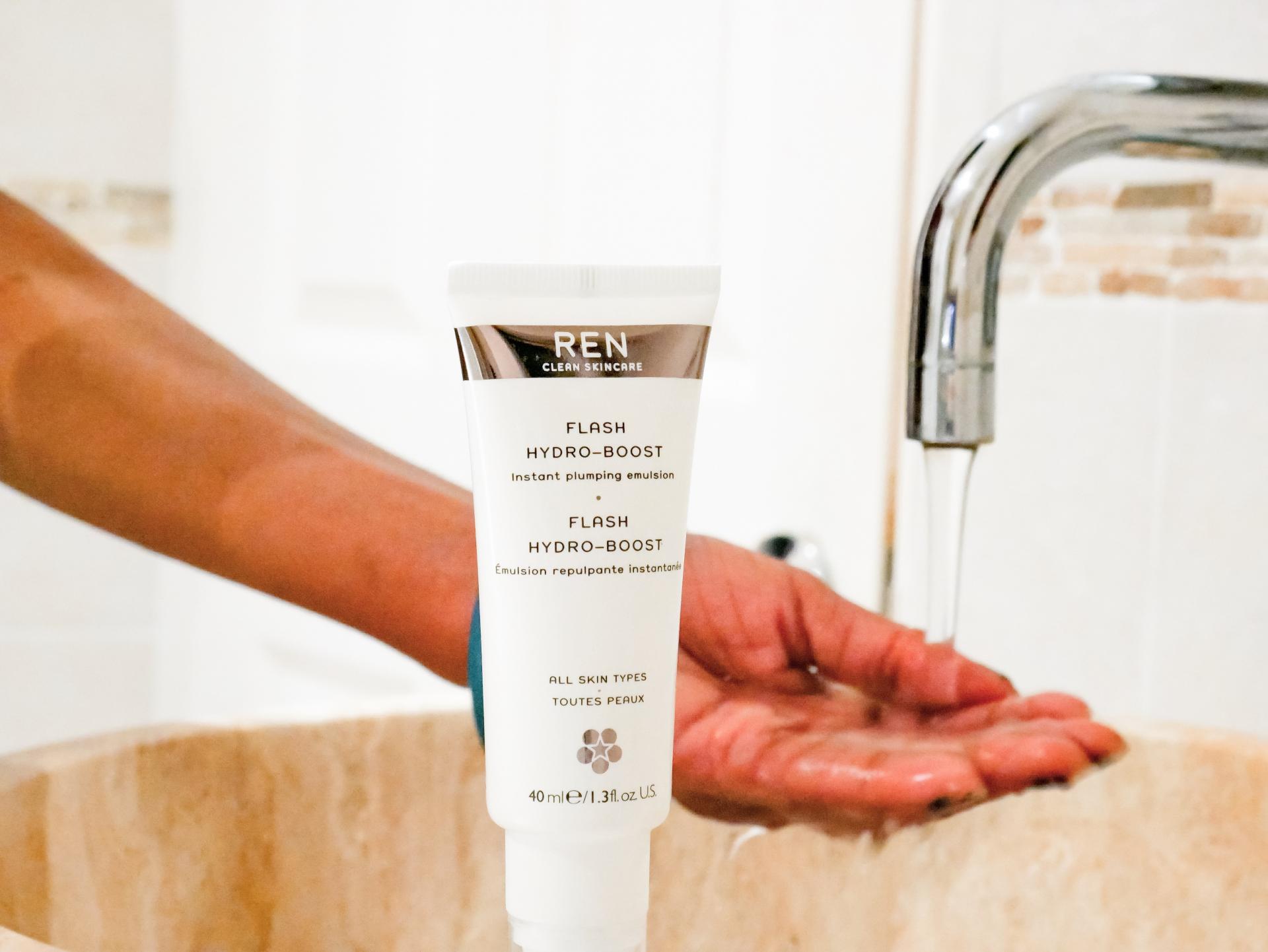 The Results
Shield your eyes, a bare-faced selfie is coming! This is a big challenge for me and not one I'm sure I will repeat online (gulp!), but I want to show you the glow! I am in front of a window for the best light. Of course!
"Skin is instantly plumped and regains a fuller, smoother appearance. Long term, skin is protected from the ageing effects of dehydration".
I absolutely adore the effect. I can see a definite improvement in the quality and the way my skin looks and feels. So much so, I was prancing around the house asking if I look 10 years younger! Apparently, not 10 years, but my skin "looks good". I'll take that!
I've had no adverse reactions, irritation or skin sensitivity at all,  which is a major relief!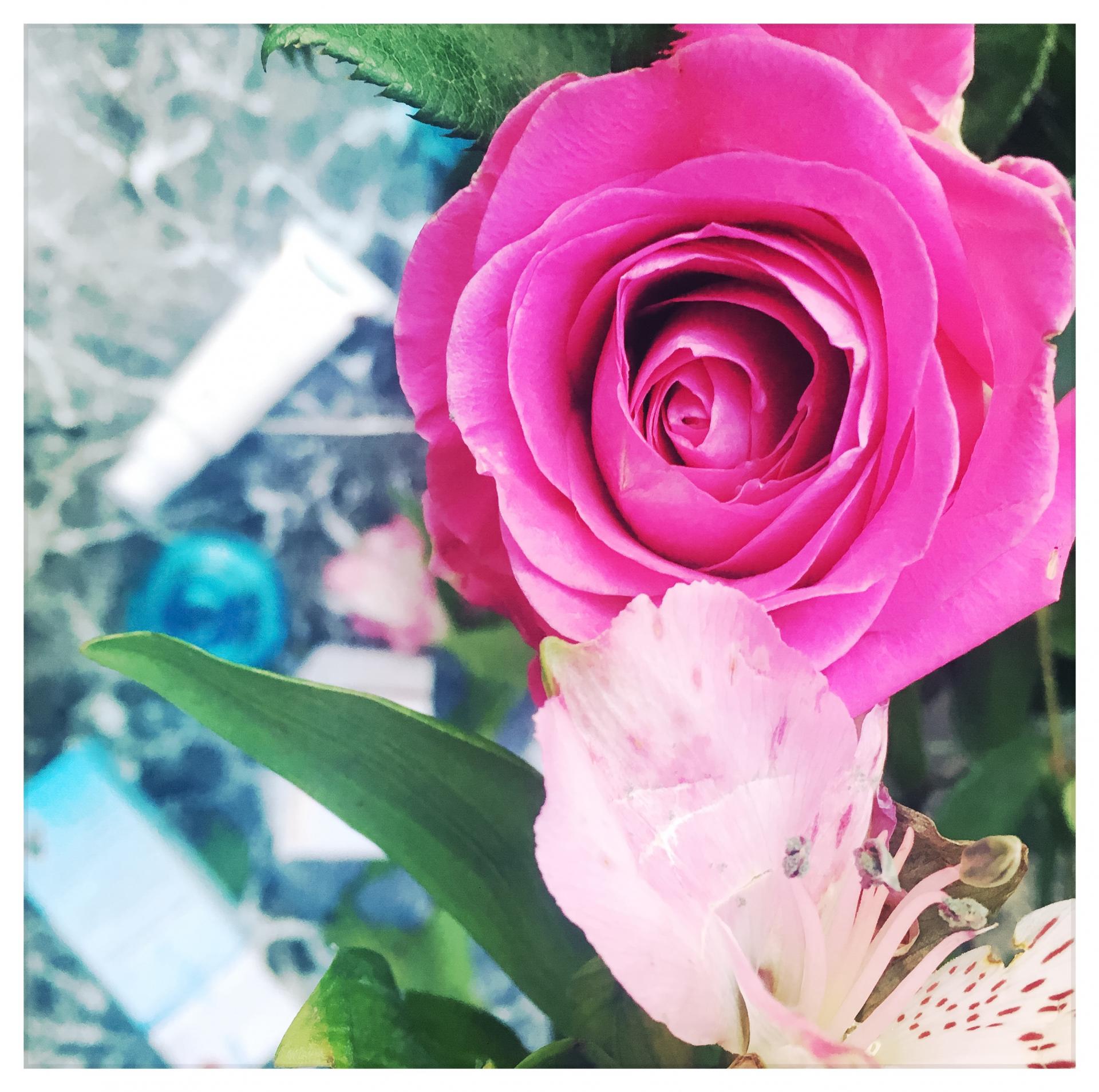 Does it work?
Yes, it works! Does it work on oily/combination skin? Yes, really well. It hydrates so well, yet it gives you a glow that doesn't look or feel greasy. The moisturisation is long-lasting, so when I use it before bed, I can still see the effects in the morning.
My skin has definitely felt and looked better hydrated, more luminous and smoother  – and it has improved the appearance of some of the lines I don't like under my eyes. I'll come back and let you know if this improves further when I get to the end of the tube. That might be a while, as a little has done a lot so far.
The other big win is the positive impact that taking the time to spend a minute extra on my skin has had. To some people,  spending a little extra time on their skin might be par for the course, which is obviously great. But for me, that has not been the norm as a new mum.  So, it's felt like the much-needed daily mini-pamper I talked about in Learning to Love my #selfie, which can never be a bad thing!
Final Thoughts
My final thoughts on Flash Hydro-Boost? It's done all the things it claimed so far! My only disclaimer is,  as I mentioned, I do use it on its own, rather than with other products, as that works just fine for me. But, it certainly gets my recommendation!
It costs £34.00 for a 40ml tube. Check it out with the rest of the range: REN Skincare Flash Range and search #FlashHydrate.
Kat x
Have you tried REN Skincare products? Do you think you might be interested in trying them out in the future? 
Follow Kitty & B: Twitter | Facebook| Instagram | YouTube | Bloglovin' | Pinterest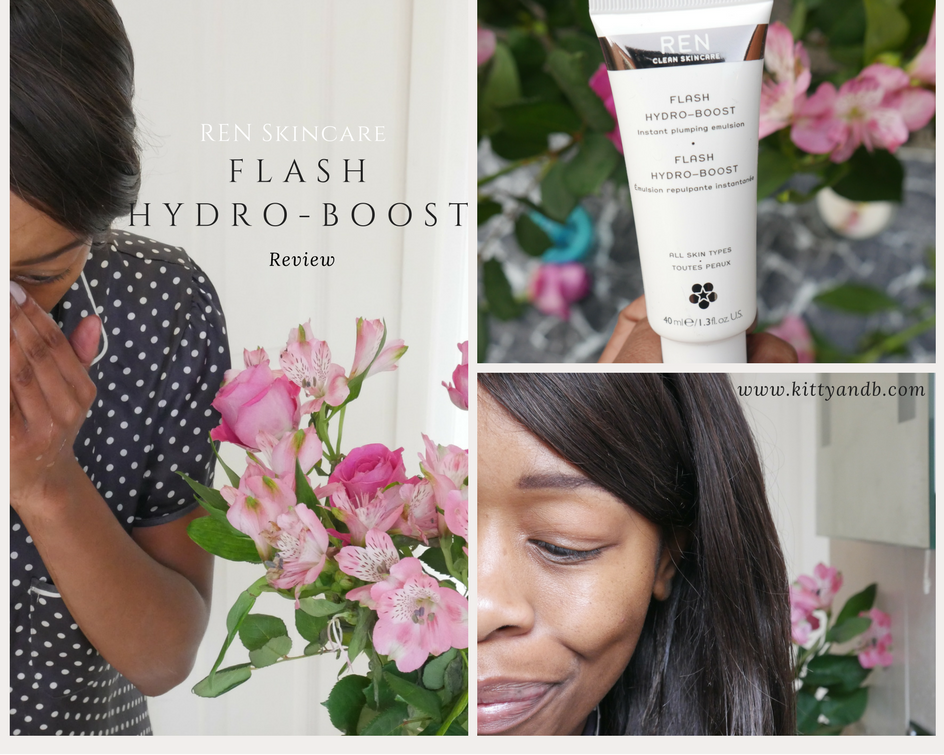 I've linked up with #mumsthatslay |#brilliantblogposts |#EatSleepBlogRT | #BloggerClubUK | #CoolMumClub | #SharingtheBlogLove | #TriedandTested.  Do check out the blogs!
Summary
Article Name
REN Skincare Flash-Hydro Boost Review
Description
I tried the REN Skincare Flash-Hydro Boost and this is my full review, with pictures. Cost, ingredients, skintype suitability, and results.
Author