Testing a full face of drugstore cruelty free makeup |#1
Testing a full face of drugstore cruelty free makeup |#1
Ttoday I'm testing out a full face of drugstore cruelty free makeup – by that I mean, all from the affordable price range. You've seen over the last couple of years I've been consciously moving towards only using cruelty free skincare and makeup. It's actually really heartening that there are so many big brands (as well as independent brands) that now make their products cruelty free.
Being a person of colour can add an extra dimension because it's no secret that the beauty world is still catching up in terms of a full spectrum colour range that's inclusive.
Cruelty free and shade-inclusive?
But, can you find makeup that works for people of colour, that is affordable and also cruelty free? Is it really possible to do a full face of cruelty free makeup (including primer and beauty products) that works?
Well, I have good news – I'm going to go through step by step a full face of drugstore cruelty free makeup with every product under £10! No, I'm not a makeup artist or expert, but this woman loves makeup, so let's go through what I found!
The journey to cruelty free 
How to go cruelty free
The easiest thing to do is to phase out your non cruelty free products one by one.
I won't lie, the whole issue of cruelty free can be a bit of a minefield and once you start looking into it, it can get a bit overwhelming
What are the parent companies?
What do Peta and Leaping Bunny have to do with it all?
Do Peta and Leaping Bunny matter when some brands are cruelty free, but don't have those labels?
I'm working on some more posts on what I've discovered (which is a lot!), but in the meantime, I have been making a conscious effort to use cruelty free products  – against the points that matter to me most.
A great friend of mine, Becca suggested the easiest way to go cruelty free is each time you run out of a product that isn't cruelty free, replace that with something that is. So, that's what I've been trying to do.
Aside from feeling like I've been researching for a dissertation (which I'll admit, I kind of like!), it has meant that I've been discovering new  brands and rediscovering ones that had long since fallen off my radar.
Barry M Concealer Palette. In medium. Used as a highlight and contour palette.
Step by Step Full Face of Cruelty free products that are dark skin friendly
This post isn't about my cruelty free skincare products, but I did a YouTube video on some of the things I use and there are some other posts here on my recommendations on cruelty free skincare that works. But, I did use a cruelty free eye cream from Poundland,  which was…£1! I followed up with The Body Shop Vitamin E face cream.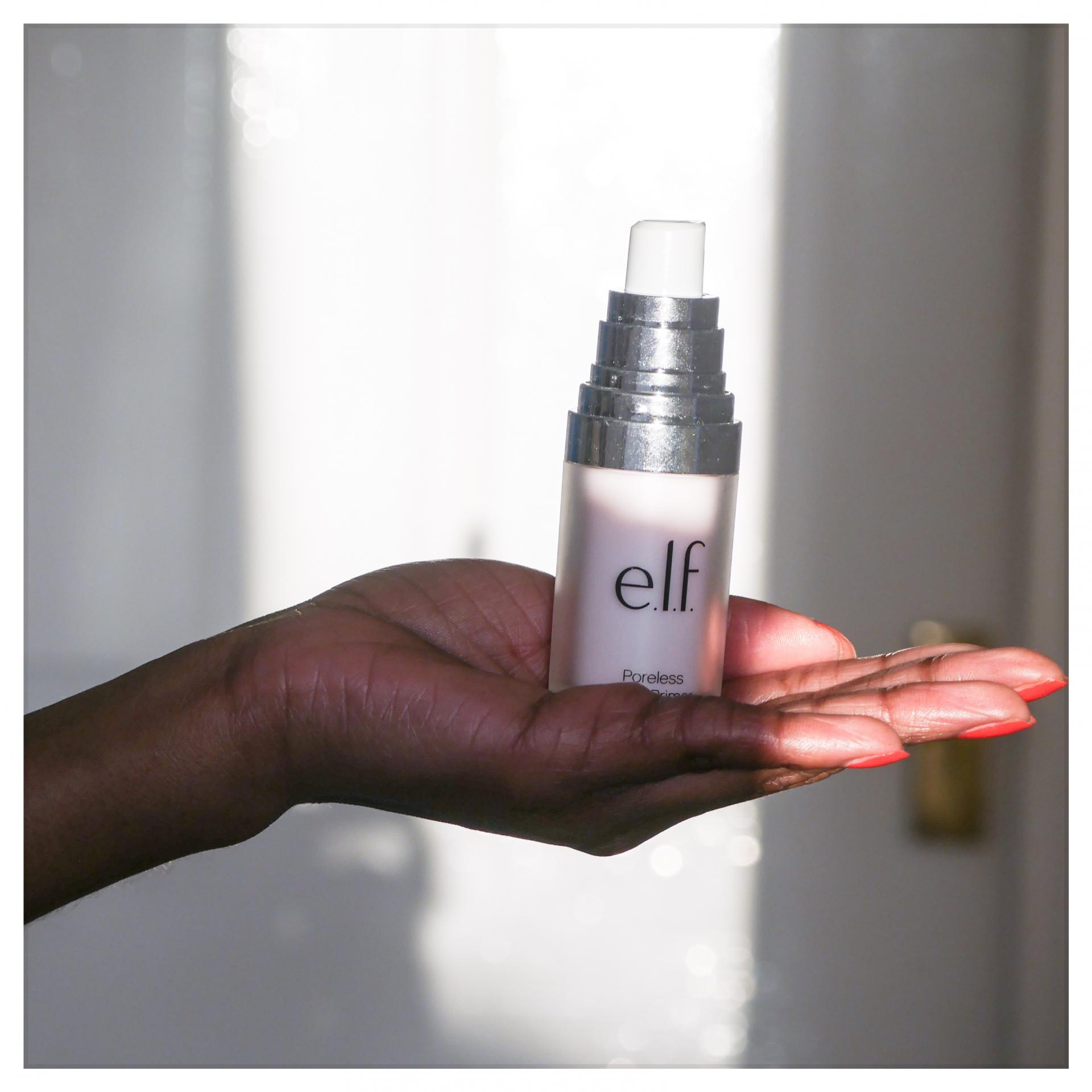 Cruelty free skin prep and primers
Ideally, I like to allow some time to let my skincare sink in before I apply anything else and the same with the primers. If I can do this, I find my makeup applies so much better.  However, you know I'm a working mum to a 4 year old, so it's not always possible. And you also know I did this particular look at the weekend when B was at his dad's!
BUT, I still do the same basic routine during the working week, except I do my base and brows at home and anything else on my (non-driving) commute. Needs must!
I used the E.L.F Poreless Face Primer,  (which is silicone based), on my cheeks and then the Barry M all night primer stick on my t-zone. I personally prefer pore filling primers to give the smoothest base.
The E.L.F primer is almost mousse-like and has a very fresh, but fairly strong scent because of the tea tree oil, which some people might not like.
Is it my favourite? It isn't as pore minimising as my craters need, but I've liked it more the more I've used it – it's light and not greasy and it does helps my base sit better.
Pore filling and shine control
I also like a bit of shine control –  the Barry M  All Nighter Primer is oil free and reminds me of the Benefit Porefessional Licence to blot stick.
Benefit do not test on animals, but they sell to China, which requires, by law, all cosmetics sold there to be tested on animals.
With the Barry M primer stick you get a really good amount of product for the price and it's quick to use because of its size.
For my daily brows I have been using the Anastasia Beverley Hills dip brow pomade in dark brown.  It's not drugstore at £19, but it lasts really well. This pot is just about done now as I bought it in Sephora at Disney World on our trip there – that's right, Disney makes the whole family's dreams come true.
Then, because I am a lazy mother non- plucker and hate plucking my brows, I then tidy the edges up with L.A. Girl Pro Conceal in Fawn or Cool Tan, which totally gives the illusion of more shapely brows than one actually has.
Brow pomade or powder?
I also use a powder over to set (and to take away any shine). Yes, I am extra because I need those brows to withstand work, a toddler and teaching my fitness classes! So, to set I used…the Poundland eyebrow kit. Yes, Poundland again! It costs £1 for a quad and I'm a big fan!
Is Poundland makeup cruelty free? It is. For confirmation on Poundland makeup's cruelty free status and also their vegan products, check here.
I've just bought the Sleek Brow Kit, so I'll get my review up (with video) once I've given it a thorough test! Barry M also do an eyebrow palette that I'm also going to give a try after I've tested Sleek.
Cruelty free base – Concealers and Foundation
I learn a lot from Youtube and if I'm going out (haha!) I've learned about using a dusting of translucent powder after primer and before other products – it helps to set the primer and keep the shine at bay, especially in warmer weather or for an event. The Ben Nye Topaz powder is actually tinted to suit darker skin tones, so it also gives me a little colour.
The Ordinary Foundation – A m.a.c Studio Fix dupe?
In terms of foundation, I very rarely wear foundation. But, if I do I use The Ordinary Colours Foundation, which is £5.90. This was my cruelty free replacement for MAC Studio fix NC46 and I generally mix 3.1Y and 3.0Y, depending on how tanned I am and to get that neutral warm tone. I can't really fault the Ordinary Colours foundations. You get a decent amount (30ml), the coverage is buildable (to get to full coverage if you prefer that), they feel good on the skin and the shade range is pretty good and inclusive. For my comparison swatches of MAC vs The Ordinary, check out my YouTube video.
For this look, I concealed all the dark marks I have from my hormonal acne (sob!) with the LA Girl pro conceal in cool tan and fawn, depending on where on my face they are.
The L.A Girl Pro Concealers are full coverage, they wear really well and don't dry my under eyes or accentuate my fine lines like other full coverage concealers, the shade range is extensive and they're so affordable. So,  I always have them stocked!
Another new discovery is B. Cosmetics. Not only are they affordable and drugstore, they are also Leaping  Bunny approved cruelty free and vegan.  I found them during a chance browse in Superdrug whilst waiting for the train. For this look, I used the Bittersweet powder blush, which is a vivid orange shade. It's less scary on than it looks and does a great job of warming up my cheeks. I also use it on my eyes as a transition shade – I love a makeup multitasker! I will definitely buy again.
Another alternative that are universally raved about are the Milani Baked Blushes. Milani are certified cruelty free and have PETA and Leaping Bunny status. The blushes around £10 and the pigmentation and colours are beautiful!
Cruelty free eye palette and mascara
I admit, Barry M is not a brand I've thought of since I was a teen and to me it was always about nail polish. How times have changed. You may have noticed I don't wear lipstick –  I am definitely more about eyes. But, I'd love to get into it, so I posted about not having a clue where to start with lipstick on our Facebook page and Rhiannon kindly suggested I try Barry M. Which then got me into checking a brand I never look at and that I am so happy I did.
In search of a warm eyeshadow palette
I was looking for a warm and vibrant eyeshadow palette with those sunset tones and the Fall in Love eyeshadow palette seemed to hit the mark, so into the basket it went! The pigmentation is much better than I expected, although some of the shades are very powdery.  I do find the yellow fades quite quickly, so a wet brush or setting spray on your brush first helps give it some more staying power.
My other wish was there was darker shade than the taupe/grey as it's not quite dark enough for me.
Morphe has now confirmed its cruelty free status
So,  I used the black eyeshadow from the Morphe 35W palette, which I also use as an eyeliner. When I bought the 35W palette, I believed Morphe to be cruelty free, although their  statement on their cruelty free status was vague and they aren't on lists with Peta or Leaping Bunny. But, Morphe have now finally confirmed their status as cruelty free,  they also sell vegan products and don't sell to China.
I used a travel sized version of the Eyeko Sport Mascara. Another one I'll be doing a full review of, testing it day to day and when I teach my very sweaty Clubbercise classes! First impressions are it's more volumising than lengthening and it has some staying power!
Morphe 35W palette ( I'd still call it drugstore affordable at £23 for 35 colours!)
Cruelty free setting powder (banana powders)
I love a translucent powder to set, but because I have yellow/golden undertones to my skin, I am a big fan of a banana powder – even if I hate actual bananas! I love the way the yellow tone brings a bit more subtle warmth to my face.
I don't use it on my whole face, just where I have used concealer to highlight – cheeks/under eyes (though I proceed with caution under the eyes), under my contour on the jaw and in the middle of my forehead (five head!).
Hate bananas. Love banana powder!
The Ben Nye banana powder was my first and I love it. It's around £20, but lasts well and is a great product. I've finished that so I picked up the Barry M powder. I think it's a great affordable alternative, though it ends up everywhere and isn't as long lasting. But, for under £6, I'd say give it a go – I'm onto my second one!
When I'm less tanned, I use the NYX HD Banana pressed powder, which I love and it makes your skin look flawless, especially in photos,  but it's a little too bright in colour for me right now!
Cruelty Free Makeup Brushes and Tools
Some of my favourite cruelty free brushes are Real Techniques and the kit that I swear by for day to day  is the base kit, that I did a full review of here. I also use the Eco Tools and Zoeva brushes for eyeshadow and blush. Eco tools use sustainable bamboo and so pride themselves on being earth friendly, too. But all the brushes I use don't use animal products and that also makes them really easy to clean!
It's absolutely possible to find great affordable cruelty free makeup in the drugstore. The shade ranges and choices are growing all the time, which is great. Yes, some products don't have the quality or longevity of the higher priced products, but there are also a ton more that can definitely compete!
I'll definitely re purchase
I wouldn't buy the same Barry M eye palette again at this point as I have others that I get more use from. But I'll certainly try out some of the other Barry M eyeshadow palettes! I also wouldn't buy the Barry M concealer palette in medium because there aren't enough usable colours in this particular one for me. I would, however, like to try their contour palette.
Kitty and B uses affiliate links. As an Amazon Associate I earn from qualifying purchases.
Have you discovered any products/brands you'd like to try? Which affordable, drugstore cruelty free brands and shops do you love?