What shoes to wear with a jumpsuit | + 20% off Boden
What shoes to wear with a jumpsuit | + 20% off Boden
This post contains affiliate links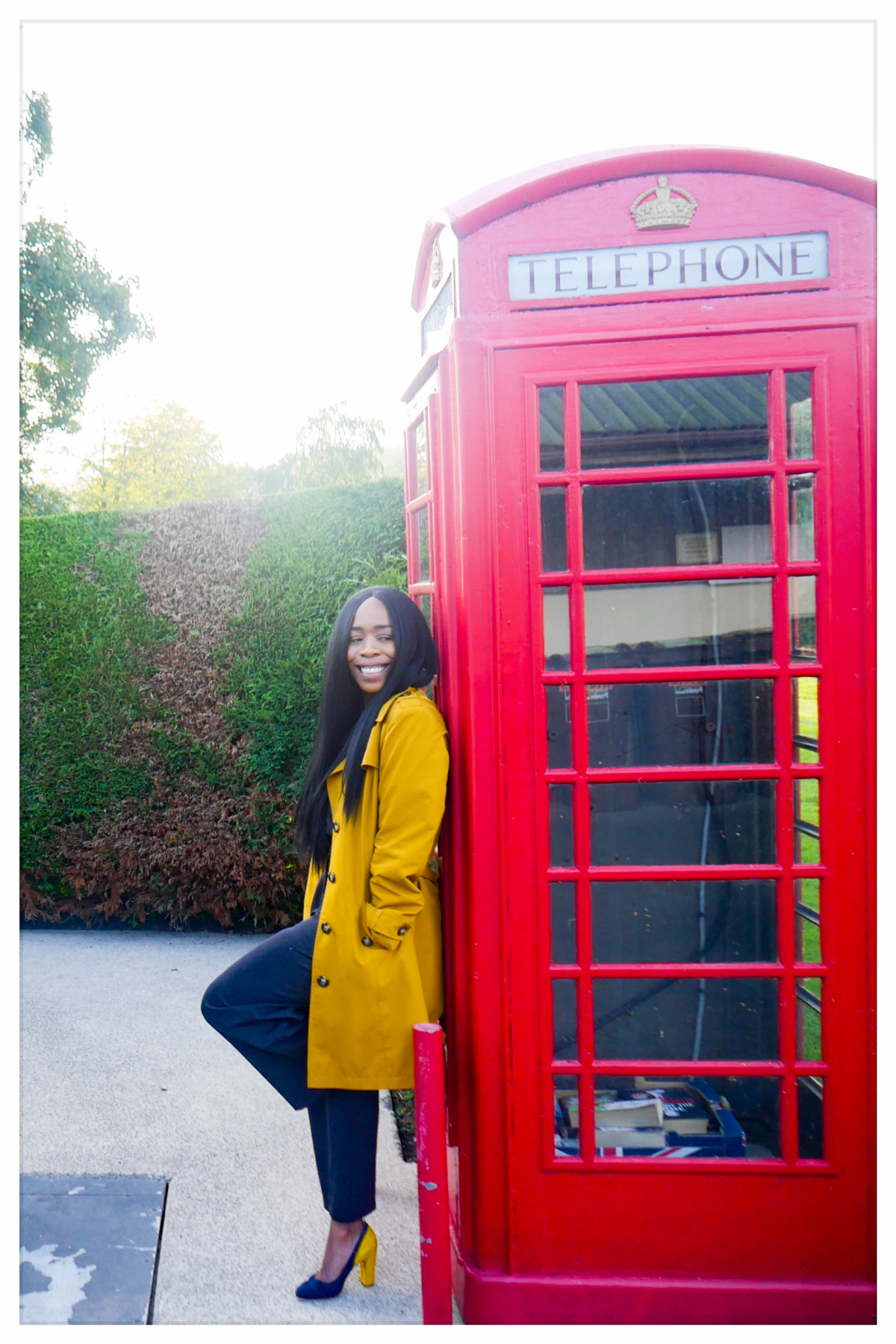 Shoes to wear with a jumpsuit
S
hoes are my wardrobe passion and jumpsuits come a close second, so when it comes to shoes to wear with a jumpsuit, I've got that one covered! This navy jumpsuit is one of my most worn items and I talked about how to wear navy in my post inspired by the colours on my trip to Malta.
In my last post on how to wear colour I delved a little into colour blocking and left some inspiration there. I practice what I preach and I have been wearing a lot more colour as a result!
But, not only am I serving you inspiration on how I capsule style and what shoes I wear with a jumpsuit, I am also giving away a bag. Yes, the bag featured here is up for grabs. You may remember it from my how to wear brown post. I bought it, I love it and if you can enter below, you might have one, too!
Of course, these shoes aren't only for a jumpsuit, you can wear them with dresses, trousers and jeans. I just find them really versatile and shoes that I actually get wear out of, rather than some that are sadly languishing in my wardrobe waiting to be taken to the ball!
As I am a #BodenPartner, I have been gifted the shoes* I'm wearing and there are other alternatives and brands throughout the post. But, as a partner I have a 20% off and free shipping link for Boden, which you can use outside the sales. I use it myself, so fill your boots shoes!
*many of which are on sale now!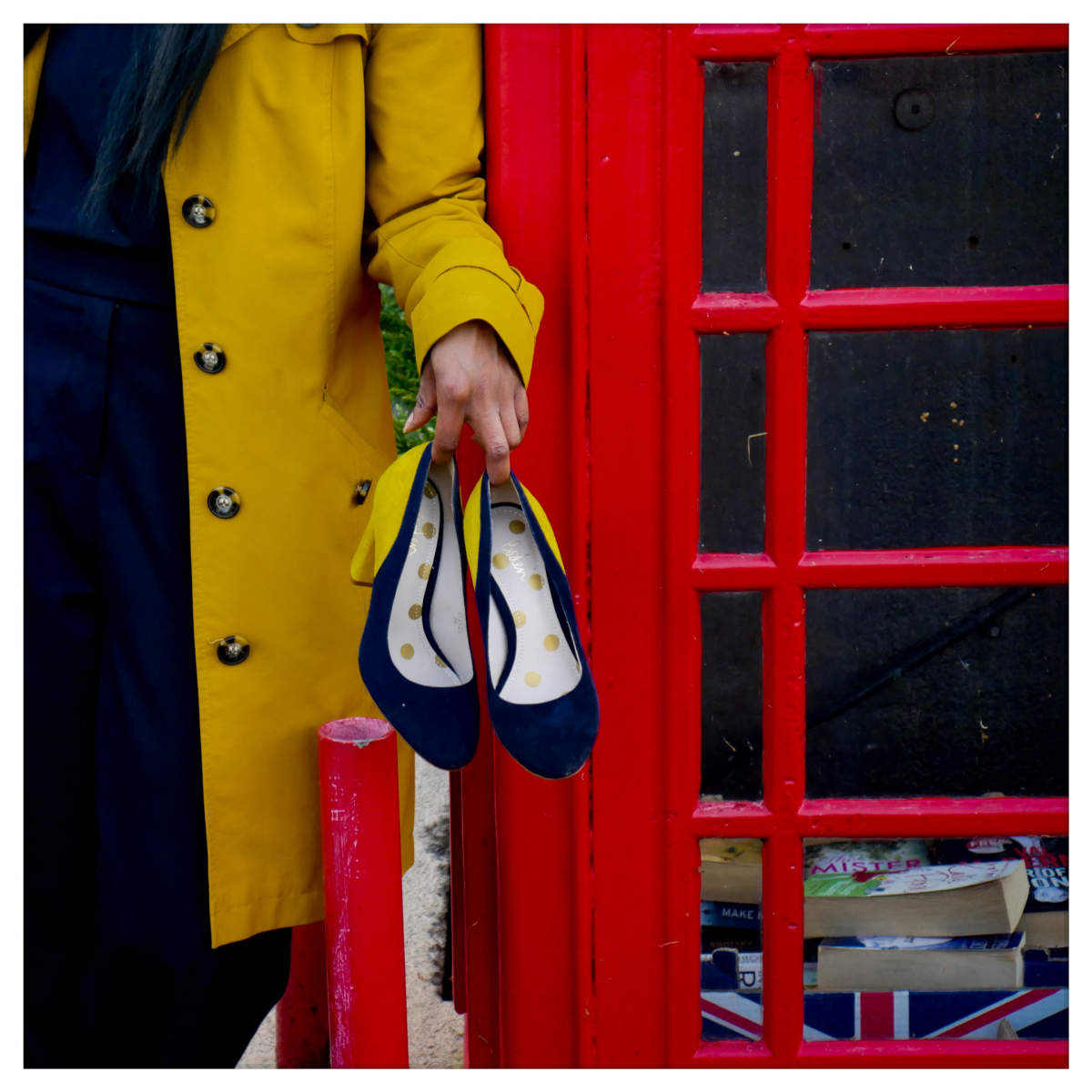 What Shoes To Wear With a Wide Leg Jumpsuit
I think that it's the occasion rather than the type of jumpsuit that dictates which shoes to wear. But, personally I tend to wear wide leg jumpsuits that have a higher waist. I just think it's a universally flattering style and, conversely, is very slimming.
Don't shy away from this style even if you're small like me, because there are so many flattering options. I'll leave some navy jumpsuits at the end of this post.
With a wide leg full length jumpsuit, I would choose either a pointed shape or a sandal or heel. Because of the length of the trouser, I'd be more likely not to wear a round toe as when you're a size 3/35, it just looks like I have no feet!
With a more culotte crop style jumpsuit, like the jumpsuit I'm wearing, I think you can get away with any style of shoe. And that's possible why I wear culotte style trousers and jumpsuits so much!
With a slim leg jumpsuit, I would tend to go for something with elevation. Definitely nothing with too chunky a profile. Especially not with a long length slim leg jumpsuit.
Block Heel Shoes To Wear With a Jumpsuit

Block Heels
Block heels are the way forward when it comes to wearing heels comfortably! You get all the height and all the stability, too! When I was pregnant with B I had sciatica (more than ouch!) and was advised that going from my usual skyscrapers to a low, block heel was actually better for me. So, I took my style direction from the Queen and that's what I wore in the office. Outside of the office I was either in trainers for the gym or ballet flats so I could walk fast. But, block heels have been a staple for me since as these days skyscraper heels give me vertigo!
And, with these shoes I'm serving not just block heels, but  colour block block heels!
You can absolutely afford to go bold with your shoes, whatever the season and whatever the weather! Shoes are one of my favourite ways to add a bit of something extra to any outfit. And I think we owe it to ourselves and to this autumn/winter to inject some fun!
Yellow Mock Crock Block Heel 2.

Tiger Print Block Heel Ankle Boot

 3. Yellow and Navy Block Heel 4.

Red Block Heel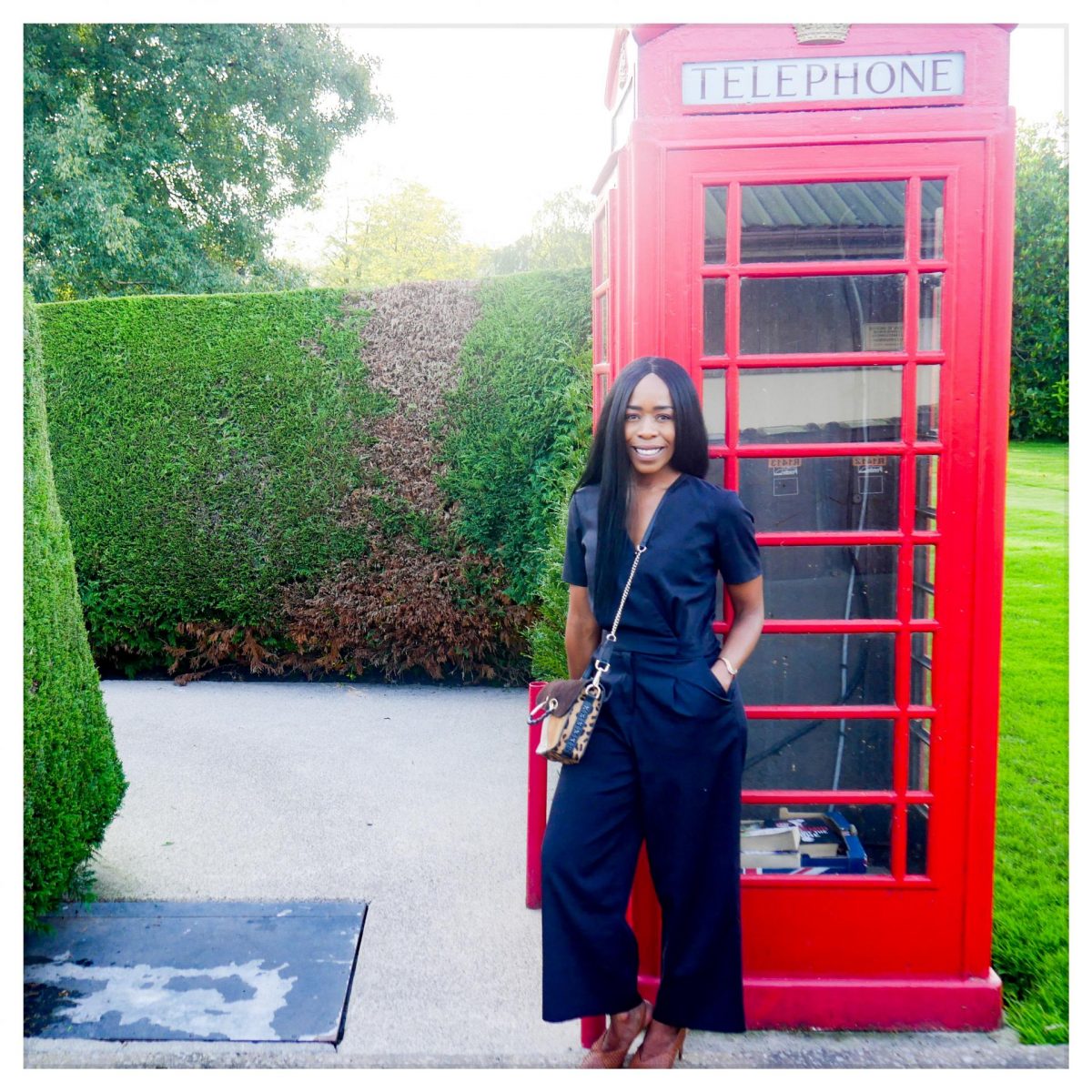 Slingback Heels with a jumpsuit
As a style and colour to wear with anything, you can't go wrong with a tan heel and the woven rattan style is not going away any time soon. I love the way the woven detail puts an elegant twist on a classic slingback style here. Tan and navy are a great combination because both are neutral, complementary base colours.
Slingback shoes are everywhere at the moment – from a flat, to a kitten heel, through low to high heels. Again, neutral tones go with everything, but a pop of colour is just fun and injects a bit of personality.
I bought the leopard print ones below on sale for £10 last week, which I was thrilled about as I've had my eye on them for a while (remember that designer shoes dupes post and video?). I'm thrilled because they work so well with this jumpsuit, too!
Brown Croc Slingback

2.

Blue Slingback

3.

Tan Woven Slingback

4.

Navy and Teal Slingback

5.

Leopard Print Slingback
Flat shoes with a jumpsuit
We can't not talk about flats. Flats are a daily staple for me, whether I'm on the school run, in the office, or sightseeing, I have flats for every occasion. The very first ones I featured on this blog, I still wear to death! Also, my first shoes from Boden were flats that again, still make several rounds.
So, flat shoes with a jumpsuit are a no brainer. BUT, I tend to go for something a bit special – especially with my ole navy jumpsuit. By that I mean a bit of a statement shoe – either a colour or a pattern. Or just a little detail.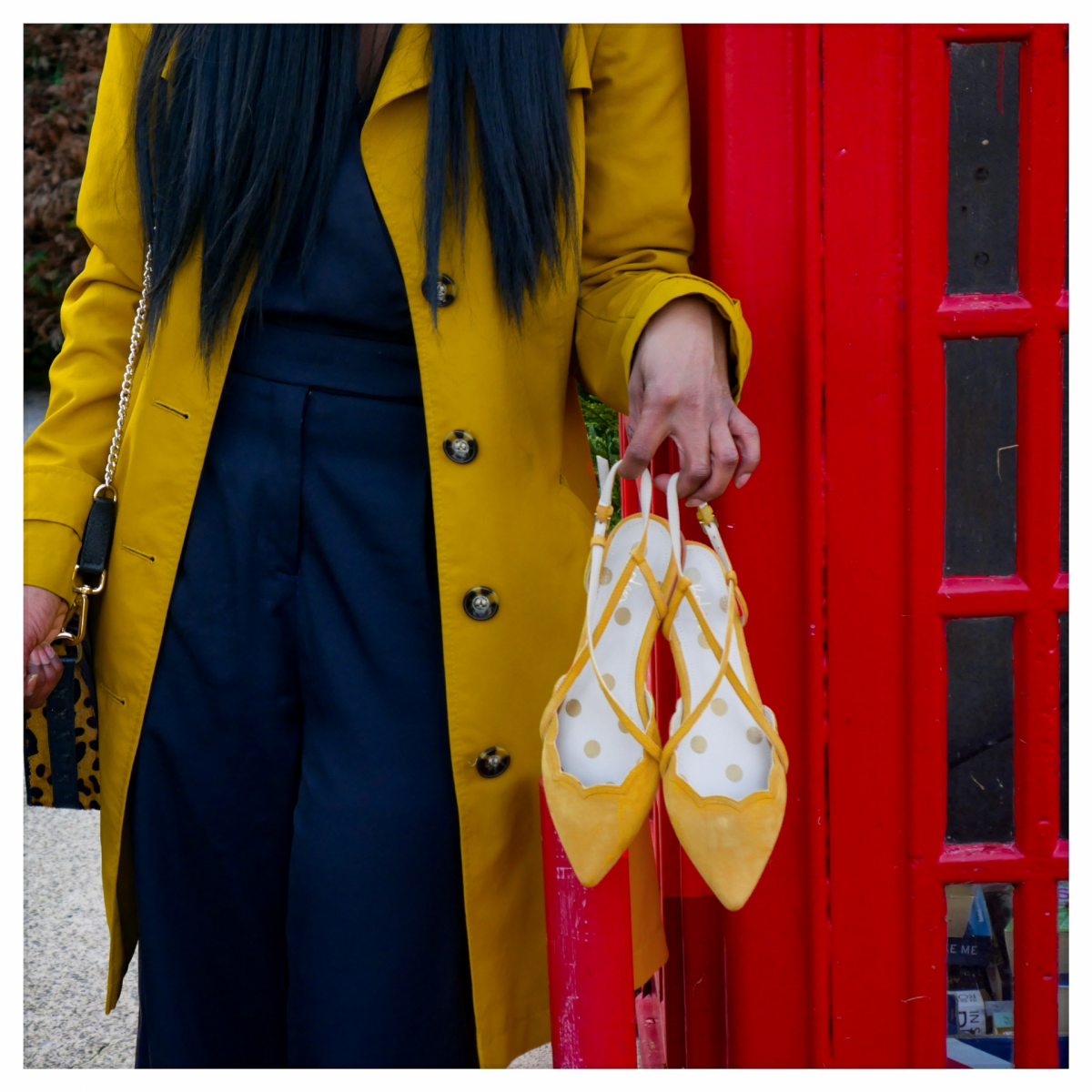 Flats don't have to be flat – a extra detail with patterns or prints adds texture and interest and lifts a neutral jumpsuit or outfit.
My trademark style is classic with a twist. So, I'm  such a fan of  mixing the classic element of this navy jumpsuit, with a statement shoe – be it bold or just something extra in the design. You can choose round toe, pointed or even this season's big trend of geometric square.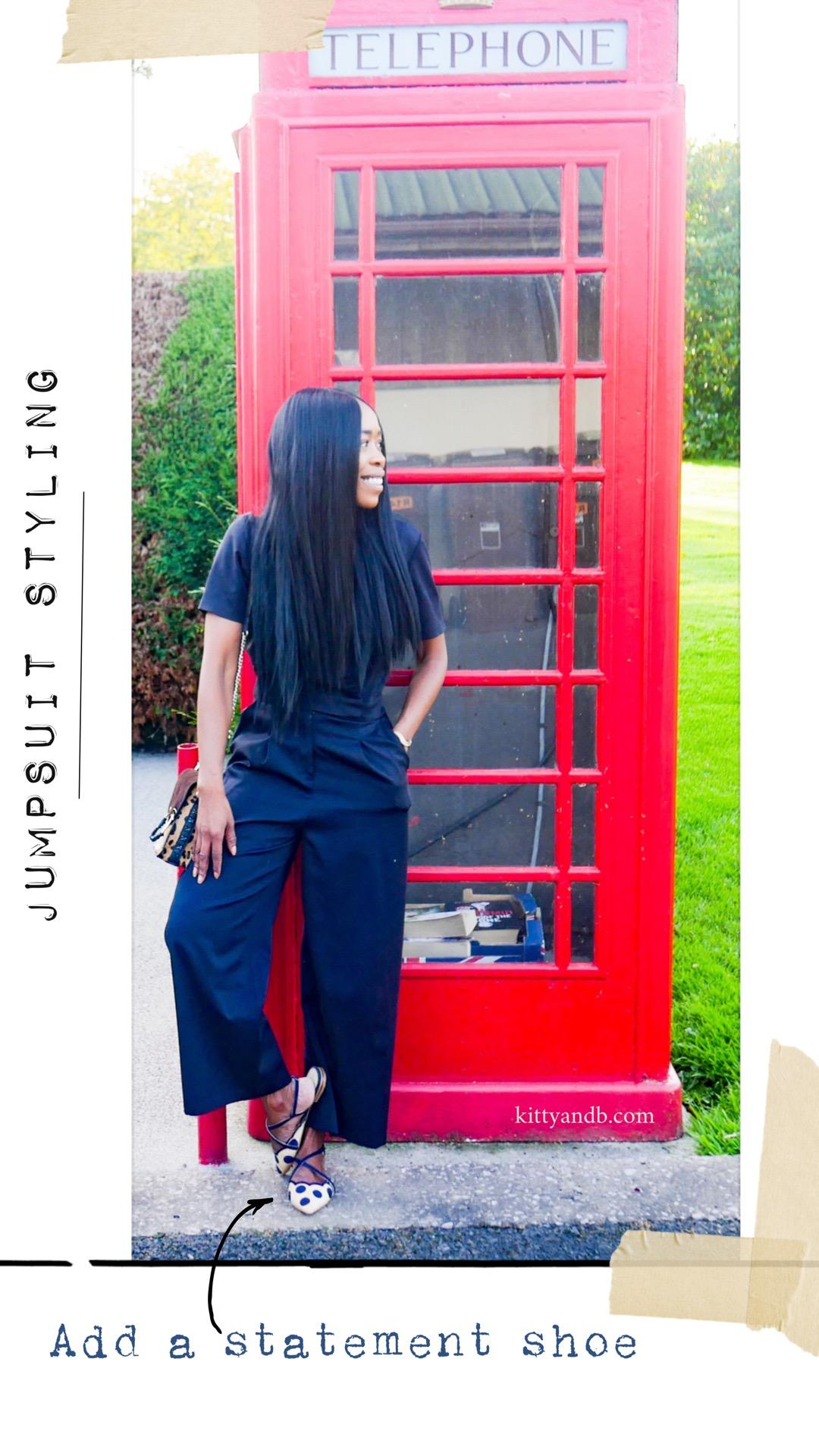 So, don't be afraid to take a classic style and add a twist to suit your personality or mood – shoes are a really great place to have some fun with your style!
1.Navy Bow Flats 2. Green Croc Loafers 3. Rust Flats 4. Black Mules
Flatforms – what are they?
Something that I've never considered before until now, is flatforms. Flat platforms. Remember Buffalos a la the Spice Girls? Well, they're back. Yikes! But the grown up version is the new flatform style that actually make sense to me – a flatform is a flat shoe with a bit of elevation if traditional flats are just not doing it for you!
Navy Jumpsuits
And, as promised some navy jumpsuits that I love.

1

.//

2.

//
3.

/

/4.

//

Read: A jumpsuit for every occasion for more inspiration.
the Boden shoes I wear with a jumpsuit – The Roundup
So, I hope the video and picks have given you some inspiration for what shoes to wear with a jumpsuit – the smart casual edition! These are looks I wear with that navy jumpsuit either for the school run, to work. Or for if I have an event after work.
As I said, I'm a fan of a wide leg jumpsuit and I love navy (here's that post on how to wear navy), so these shoes and styles are the ways I switch it up for different looks.
Amongst the other options, I've chosen the Boden shoes I wear as they are my most worn from way before and of course, now I'm a #bodenpartner. Don't forget my 20% off and free shipping link.
It's on our Instagram too, so is that IGTV video I mentioned. I'd love you to check it out.
Oh, and you can also check out our YouTube channel here. :o)
Love, Kat x
Follow Kitty & B:  Pinterest |Instagram | Twitter | Facebook|   YouTube | Bloglovin' |
I'd love to know shoes you liked best with my trusty jumpsuit? How do you typically style your jumpsuits?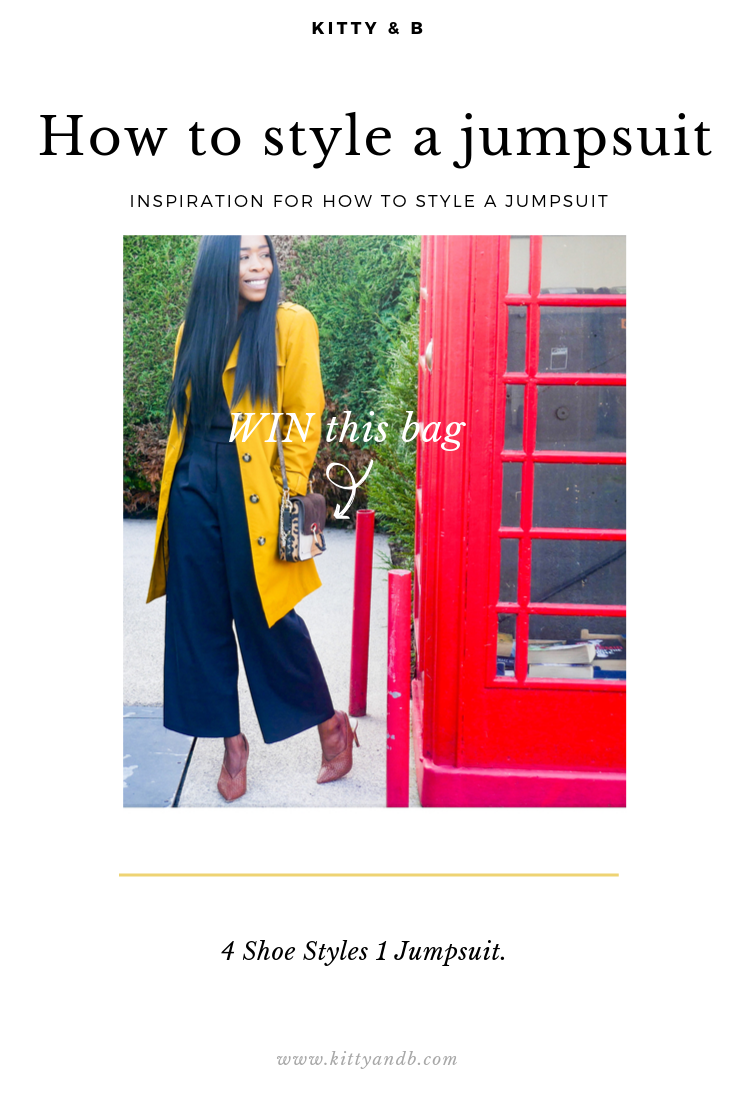 The giveaway
You can enter to win one brown, white and animal print suede leather bag worth £50.
The giveaway closes on 10 November 2019 at midnight and the winner will be chosen and contacted with 24 hours of the closing time. The winner has 48 hours from that point to respond, failing which another winner will be selected.
The giveaway is open worldwide and we will post the bag to the winner once confirmed. However, the winner will be responsible for any tax/import/duty costs. Please check these before entering.
All entrants will be added to our mailing list.
Shared with: Super Lucky|#mumsthatslay | #iwillwearwhatilike | Classy Monday | Hello Monday | Shoe and Tell |