Chanel and Rockstud Inspired| Modern Vintage Chic
Chanel and Rockstud Inspired| Modern Vintage Chic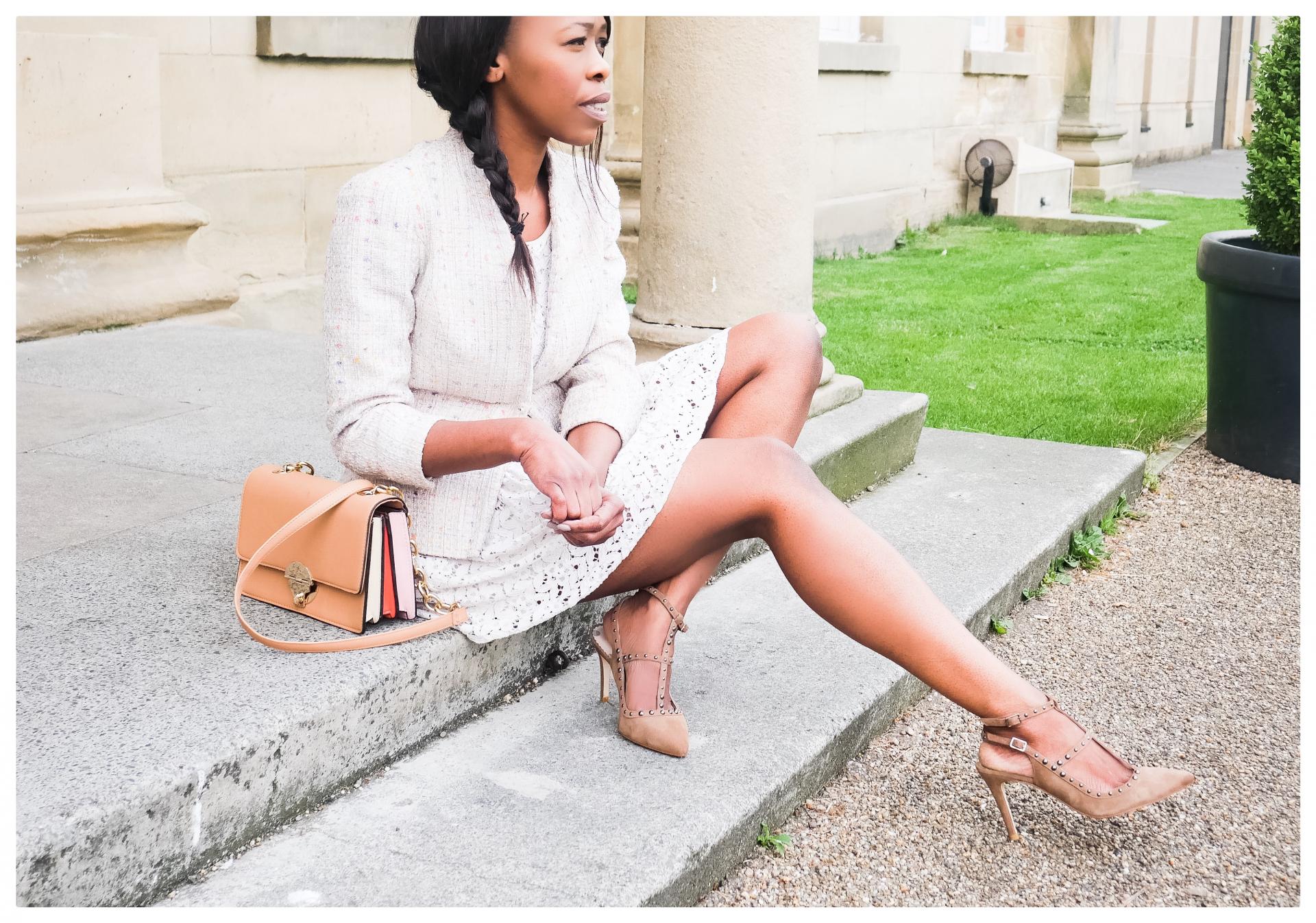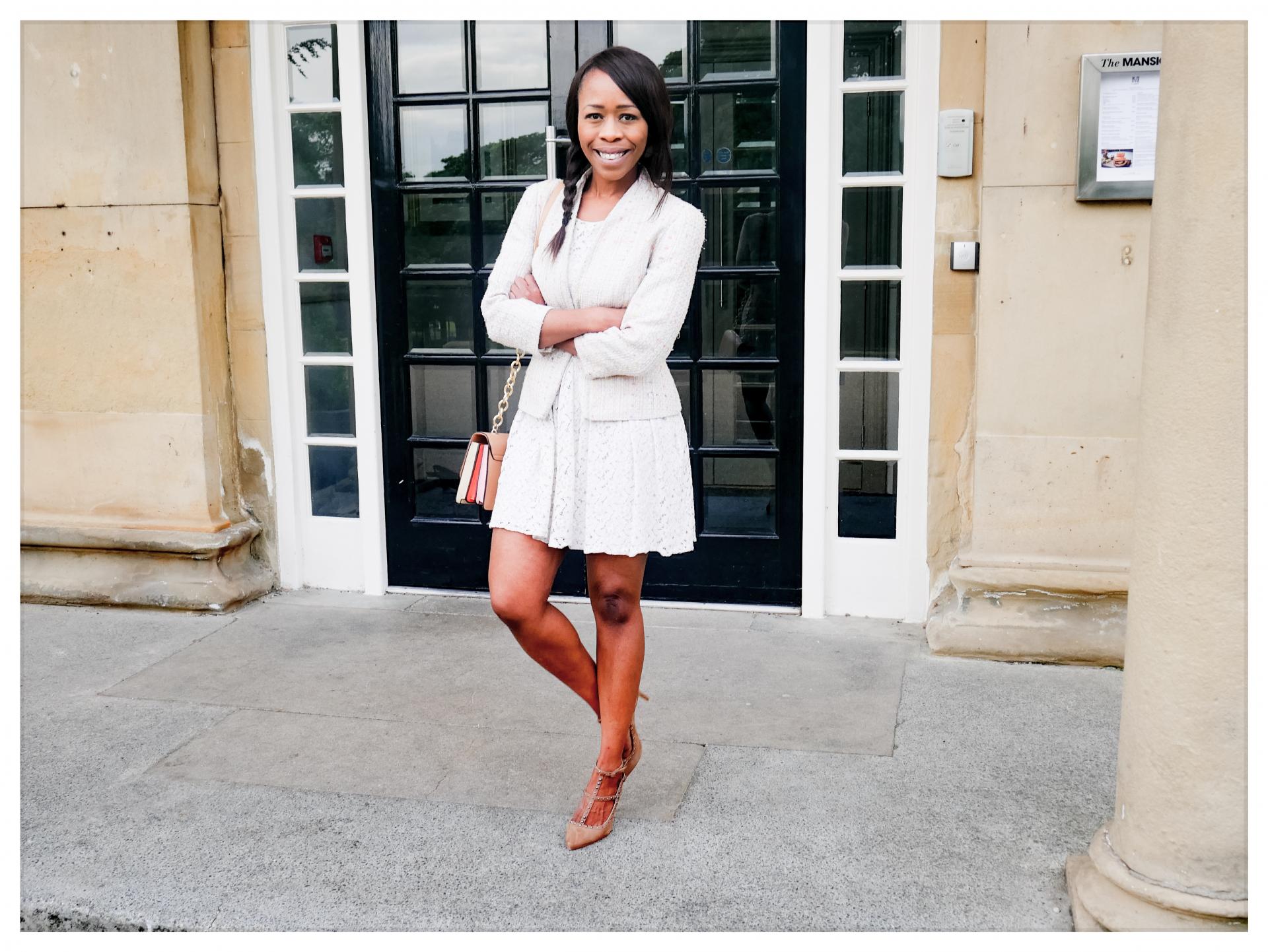 Chanel Inspired Affordable Chic
Like Beyoncé channels her alter ego, Sacha Fierce, I have been feeling inspired by the great quotes and the style of Coco Chanel. I've been going back to classic style with this affordable Chanel and Valentino Rockstud inspired modern vintage look.
As you know, I love following fashion and I have been experimenting with trends, as you will have seen lately in our latest YouTube Lookbook video. That said, you'll also know I am not what you'd call a hardened dedicated follower of fashion, but what I do love is taking affordable modern pieces and mixing them with quality classics.
That's why I love this modern vintage, Chanel inspired look.
It's channeling Chanel  and Valentino at a fraction of the price.
It looks vintage, but without the mothballs!
It's an elegant and  modern, summer twist on tweed.
It all comes together with these gorgeous, wearable heels (that are on sale for £52 and you can get then delivered worldwide). Who needs Valentino Rockstuds, when you have these feminine beauties for a fraction of the price, but all the quality!
Not you? Me neither!
 "Dress shabbily and they remember the dress; dress impeccably and they remember the woman"
I'm not sure about this one as it depends which woman I'm being that day. Tired-looking scarecrow woman is one I'd happily delete from anyone's  memory bank. But, it's amazing what a difference a great outfit can make to your outlook, even when you haven't slept for what feels like years! In these photos, I think I'd had about 10 hours sleep that week (no exaggeration! #teethingtoddler)  and I hadn't had time to do my eye makeup.  But, the outfit itself  made me feel fabulous!
Trust me, I have outfits like this that I (almost literally) throw on and look like I spent time putting them together. But, actually they're simple, easy,  tried and tested combos that are used to detract and distract from the eyebags! Distract them with pretty details and they'll never know you haven't slept since 2014!
It's also nice to catch sight of yourself in the mirror and feel like you look more put together than you actually feel.
Fake it until you make it (to bed)!
It's definitely a look I enjoy and feel comfortable in. And makes me look a lot more chic than I might actually be feeling!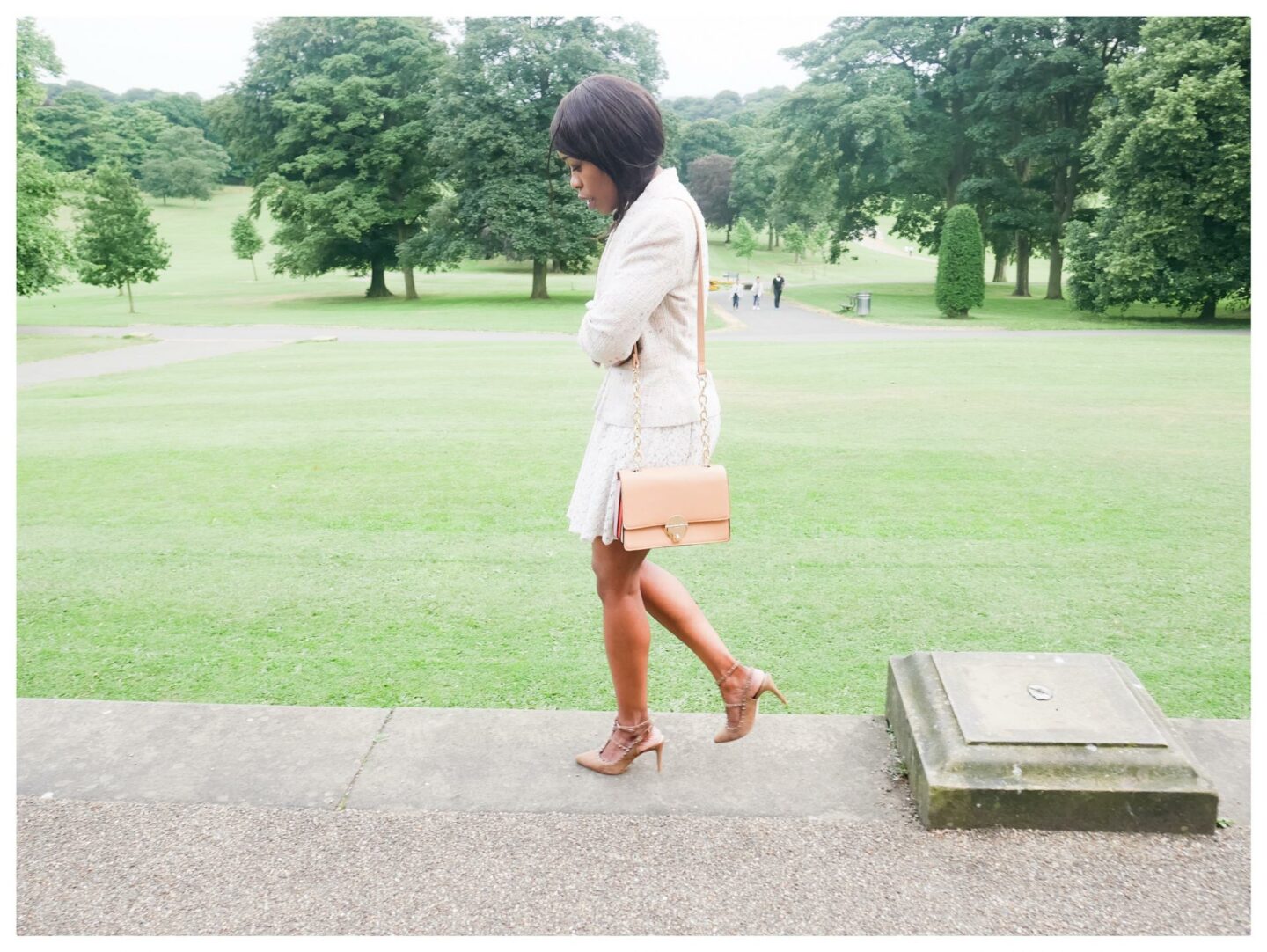 "Fashion changes, but style endures"
Great jackets, shoes and bags are always a good investment, whether it's a Chanel Boy, a Chloe Faye or Valentino Rockstuds. Or, in my case,  an affordable, quality dupe!
I've had this Chanel inspired jacket for years, it was a birthday present from a dear friend and it always gets compliments. I add lots of different touches like a brooch or some jewellery and sometimes a belt and I never get bored of wearing it. Over a dress or with a tailored shirt and jeans, it just makes me feel chic!
Tweed & Lace
The lace dress is another wardrobe staple, that gets an outing so very often. I don't even remember where I bought it, it's that 'vintage', but there are loads of affordable and wearable versions out there, so I've linked some for you.
The bag has been a  firm summer wedding and events favourite and I can't believe how cheap it was (£15.99) and how much I've worn it! I even got a little spot for #ThisisNewLook on the New Look website for another the look I styled it with. Check the post here and the other DailyNewLook looks (and give me a heart, if you're feeling kind). 
"You can be gorgeous at thirty, charming at forty, and irresistible for the rest of your life."
The shoes, let's talk about the main event: these shoes. They are the most perfect Valentino Rockstud inspired dupes, where you don't have to compromise on quality. I am so in love with them. Remember, I mentioned them in a previous giveaway post on how to get the look of Chloe and Valentino for less. Well, them being on sale for £52 means I have finally completed the look with both the bag and the shoes from that post. You can check out our YouTube clip below, too. 
These are my new wardrobe classics that will be with me for years to come. 
The heel is just that perfect height to give you a lift, but not too high that you feel like you're on stilts. And the ankle straps lend a bit of extra detail (but they also help keep you on balance. Parfait!).
They come in navy, too and I am tempted. Very tempted indeed! 
"A woman can be over dressed but never over elegant."
Merci, Chanel for the inspiration!
Are you modern vintage, modern modern or pure vintage? Or, none of the above! If you've got any particular blog posts or blogs, styling designer looks for less,  I'd love to see them, so make sure to leave a link!
I have linked this post with some awesome fashion blogs: Style After 9 and her fabulous #mumsthatslay linkup and also Not Dressed as Lamb and her #Iwillwearwhatilike linkup.